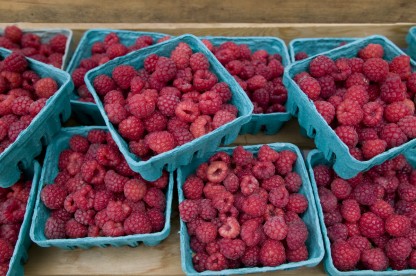 Picture from photographer Jason Houston. I ate mine on the way home….

This week
Restaurant Day Celebration. This Tuesday and Wednesday you can savor farm fresh specials at one of the many Pioneer Valley restaurants! (CISA sponsored.) Check them out here.
Great answer
A popular NY Times article told us why we shouldn't let our children grow up to be farmer here.  Some good points, sure, but here's a great rebuttal covering why we should! More here, including an answer from farming evangelist Joel Salatin, 
Orgasmic Oysters
Just back from The Cape. FINALLY ate enough Wellfleet oysters to satisfy. They might just be the best food in the world. Read more here. Who is going to the oyster fest this fall?
Zucchini overload?
Try Julia Child's Zucchini Tian here in honor of her birthday. Sometimes it's best to go with the classics.
Good new for new farmers
Read about in incubator farm here.
Brined Rosemary Chicken Breasts with Garden Salsa
Made some salsa tonight to go with chicken breasts brined in salt water, garlic and rosemary for a few hours. (No proportions needed; just add plenty of salt!) Grilled them over charcoal in the driveway (live in an apartment now) and served them with smothered with a simple August salsa of chopped heirlooms and basil from my garden, chopped jalapeno, onion, garlic… you?
Ready for Peach-Paprika Pie?
Recipes for making the best of summer fruit here.
Just for fun
Strange recipes from the 50's and 60's take me back:) Let's start with Beef Fizz. Described as "sheer wizardry as a pick-up," this "refreshing" beverage recipe calls for a can of condensed beef broth mixed with a half cup of club soda and garnished with lemon. Read more here.
I'm a huge fan of Jeni's Ice Cream
Flavor and food sources collide in deliciousness here.
Is it possible for anyone to start their winter garden now?
Start one up if you're more organized than I am! (here)