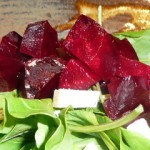 Simple, classic and local — all from the farmers market yesterday. I roasted the beets while cleaning this morning, so they'd be ready to complete our dinner when we returned this evening. I hate to clean and tend to reward myself with food. The smells of simmering apple sauce or the happy longing for food finished, such as roasted potatoes or the beets here, move me along. This salad was accompanied with my neighbor's fresh eggs, fried and topped tomatillo salsa. (It's frozen in ice cube trays, as in my post a few weeks ago. Then it's defrosted in the microwave, a cube's worth at a time.)
Serves 2
2-4 beets*
2 generous handfuls of arugula, washed
1/4 pound of anything in the blue family (or goat if you prefer)
white or red balsamic vinegar
olive oil, preferably fruity in flavor
kosher or sea salt
1) Wrap the beets in foil and roast in a 400 degree oven until they can easily be pierced with a knife. Small beets may roast in as little as an hour, larger for as long as 2. Cool and peel.
2) Toss arugula in olive oil and a touch of salt, just to coat. Divide between two bowls.
3) Peel and cube the beets. Toss with vinegar, just to coat, and a touch of salt, using the same bowl used for arugula. Center or sprinkle beets over the arugula.
Sprinkle salad with the cheese. Serve immediately.
Variation: If the cheese is soft, spread it on a warm toasted bread.
*Tip: Roasted beets/Beet Greens
Roasting beets concentrates their flavor, making them irresistible—the dessert of the vegetable kingdom. I like them so much, I often throw a bunch into the oven while I'm making breakfast or dinner, so I can have them around to eat later. If you like them, roast lots of them, then store in the fridge for up to 5 days. In this recipe the tops weren't available because of the freeze, but earlier in the season you should use the green tops. Discard stems and any tough spines. Bring water to a boil, add salt and plunge in leaves for 2-5 minutes, until tender. Drain. When cooked, but still slightly warm, dress with salt, olive oil and fresh lemon juice Serve immediately.
Any local cheese in the blue family is great with pears.