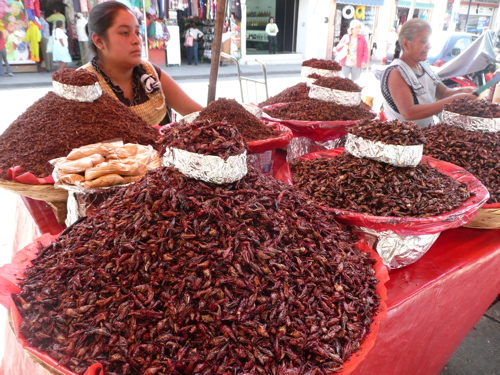 What better way to get a sense of a place then through local food, like the fried grasshoppers pictured here?
For the Mexican food lover, Oaxaca, the city of 7 moles, is your town. The markets are pure magic, especially for those brave enough to nibble everything. (Sometimes I did, sometimes not.)
The Abastos market is impressively huge, endless in fact, even for a market tourist like myself. And all the markets were packed with regional goodies: pyramids of fried grasshoppers with lime; counters teaming with ready-to-stew chickens, their feet sticking out over the counter; vats of mole fixings as well as red, green, yellow and black glistening mole pastes ready to reconstitute; feisty roosters flipped over by their feet before sale; ice cream in every flavor, from walnut to prickly pear, spinning on ice in long metal pails; and chilies, fresh and dry in endless sizes, aromas and shapes — smoky, mild, fat and rich, tiny and ca boom!
The prepared food section is hard to resist, a jumble of proud restaurants and stands, many with tiny Indian women hawking their menus, guiding shoppers to flowered oil cloth covered tables and stools. And a barbecue row, a smoky aisle lined with hanging meat stalls, each with an accompanying charcoal grill and smiling griller.  Chose your meat. It's grilled to order, then sit in a booth with big bowls of freshly made tortillas, green and red salsa.
Piles of sun-ripe fruit— pineapples, guava, papaya and more — compete for space with huge jars of whole peeled mangos, floating in vinegar and hot chilies. Medicinal and culinary herbs, some familiar, many not, sit bundled beside bags of bright yellow squash blossoms, ready to stuff and fry.
Past stalls of fresh and string cheese, outside the Benito Juárez Market and into the bright sunlight, I smell chocolate. Someone's stirring ground cocoa bean liquor, which is running into buckets below. I look up: A street lined with aromatic chocolate shops awaits…..
****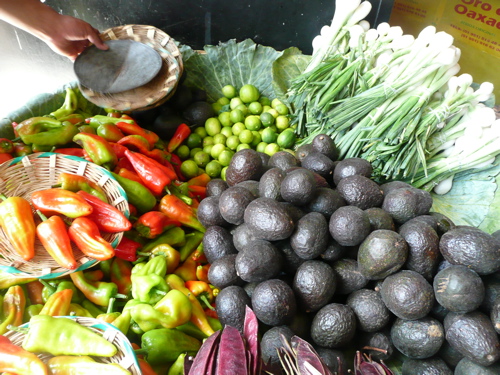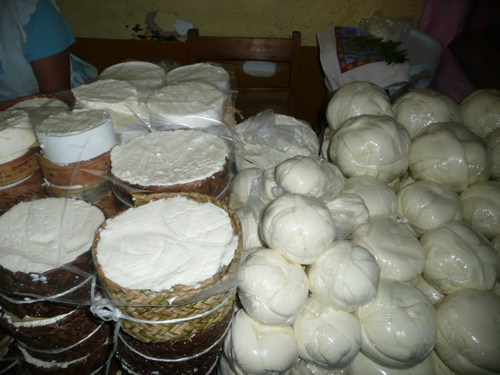 Oaxacan fresh and string cheese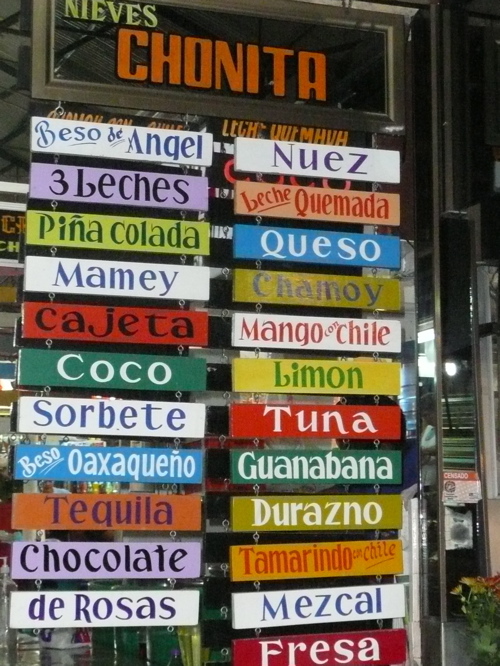 Ice cream flavors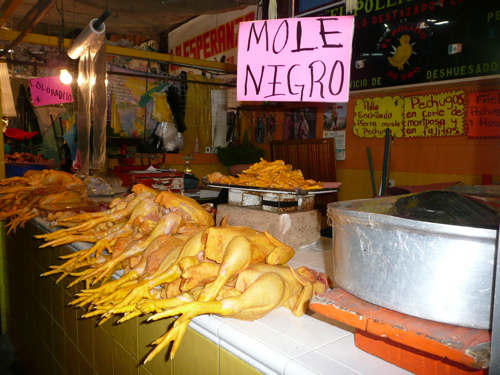 Chickens and a vat of mole paste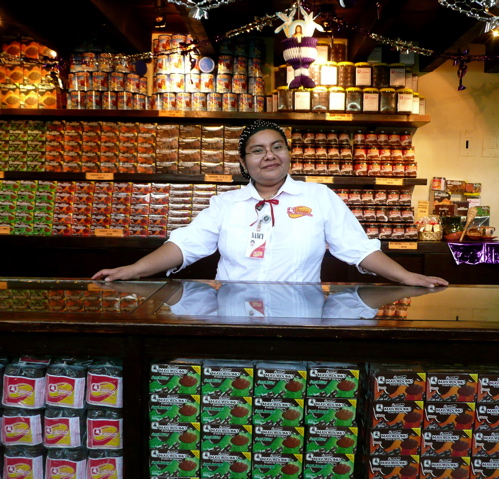 Chocolate Vendor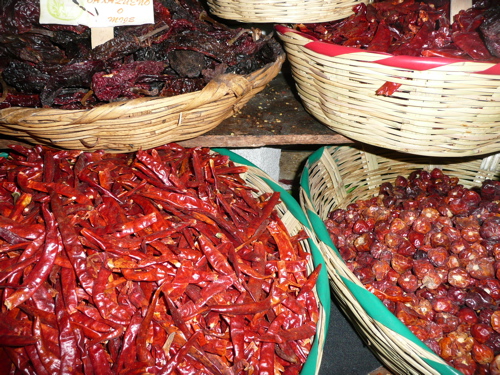 Chilies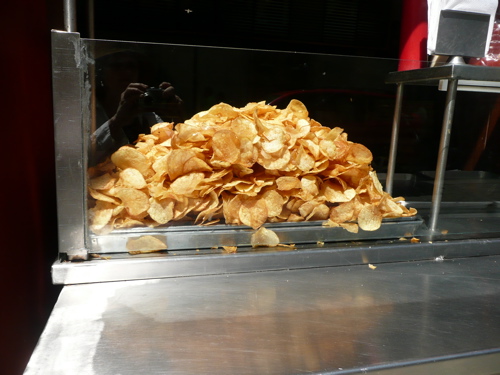 Freshly made potato chips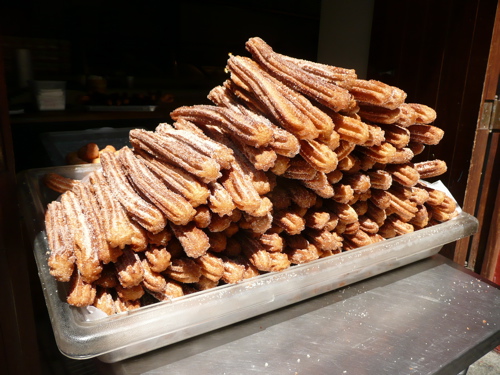 Churros, sugared fried dough desserts, often served with hot Mexican chocolate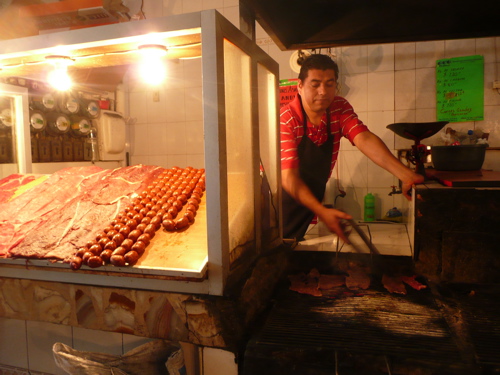 Grill Vendor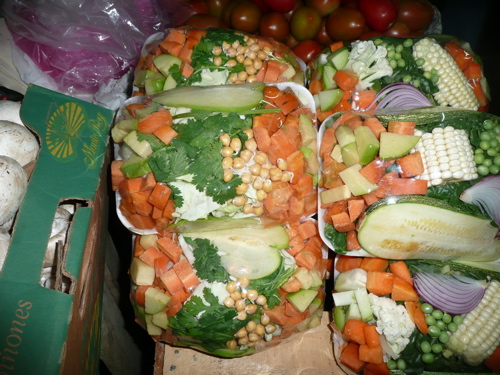 Fresh fast food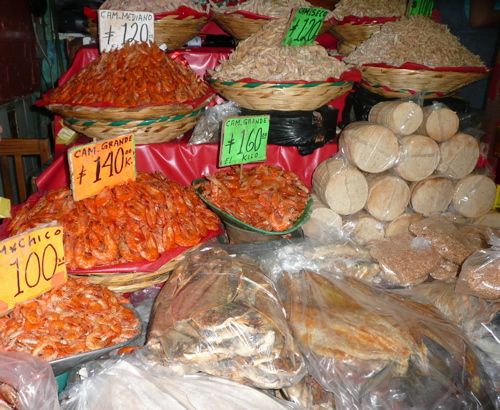 Dried shrimp and fish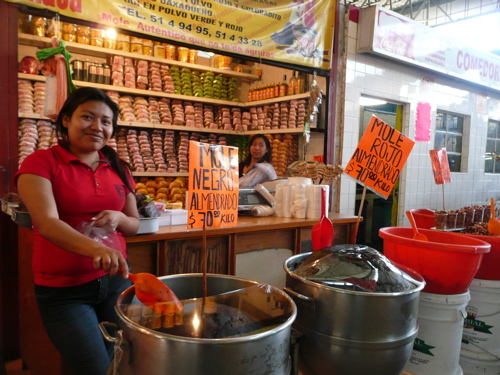 A mole vendor (and her sister). I brought back both the fixings and the paste.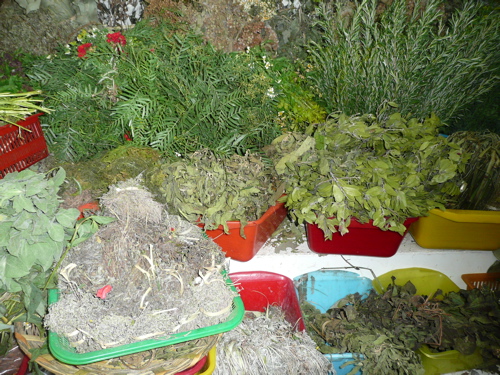 Herbs
***
A Cooking Class: This was my 8th trip to Mexico, yet I've never been a huge fan of the food there.  But sophisticated Oaxaca sold me. And so my husband and I took a cooking class, the first for me in several decades, at the stunning Mexicana ranch kitchen of Susana Trilling of PBS fame. A fun filled day with a memorable market tour and tasting, followed by a terrific class and multi-course dinner for those of any skill.
Coffee Anyone? Unless you are a fundamentalist locavore, part of your diet comes from elsewhere. So I especially enjoyed drinking local coffee in Mexico where it's grown. The organic Oaxacan coffee was dark, rich and wonderful. But if I'm going to drink it here, and I will, I need to know more about how it's grown, including how agricultural workers are treated. Here's a piece on Mexican organic and free trade coffee from Rodale. It says, "Organic and fair trade coffee has the potential to help more small family farmers than perhaps any other crop in the world. The critical factor is whether enough North American and European coffee drinkers decide they want to pay the three or four cents more per cup to make a difference."