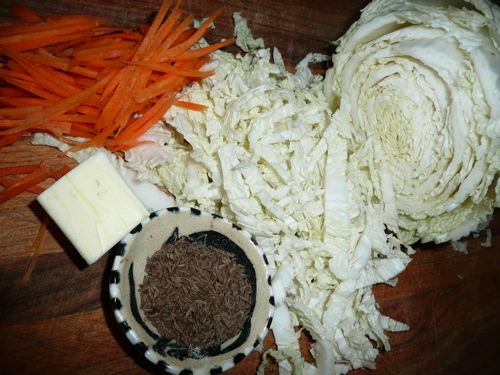 My mother-in-law called my husband half lace-curtain and half shanty Irish. He calls himself neither, but has an Irish passion for cabbage and potatoes, which I have learned to embrace.
Right now my house boasts both the giant Chinese cabbage used here and large glass crock with half-fermented multicolored sauerkraut with ginger and anise. I picked up the giant Chinese cabbage at the Holiday Farmers Market, and it has served me well this week, because, like the rest of you, I've been in no mood to fuss in the kitchen after all that Holiday feasting.
So here are two simple recipes that shout, " I'm cabbage, but won't bite you!" They also use up my beautiful Chinese cabbage, which has a very light flavor and good crunch.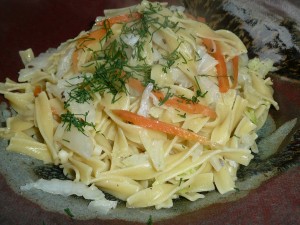 Weekday Noodles and Cabbage with Caraway
This simple toss works well, but you are welcome to stay loose; exact measurements aren't necessary. Use whatever seasonal cabbage is on hand and any kind of pasta, though I love these cozy noodles. And you can easily leave out the carrot and dill if they're not around. In other words, you can't go wrong!
Makes 2 portions
2 tablespoons butter
1/4 teaspoon caraway seeds
About 5 cups or 10 oz shredded cabbage
1 carrot, cut how you wish, optional
Salt, preferably kosher or sea salt
About 8 oz dried egg noodles, medium or large
Generous amount of freshly ground pepper
Chopped fresh dill, optional
1-Melt the butter and set aside. Make sure the caraway, cabbage and carrot, if you are using it, are ready. (To shred cabbage, simply cut across it in thin slices.)
2- Bring about 2-3 quarts of water to a boil. Add salt and noodles. Cook until al dente, cooked but slightly firm to the touch, adding cabbage and carrots to the pot a minute or two before it is done. Drain, leaving some of the water still clinging to the noodles.
3-Toss the noodle mixture with the butter and caraway. Add a generous amount of salt and freshly ground pepper to taste. Serve immediately in warm bowls, sprinkled with dill, if you are using it.
Quick Chinese Cabbage Slaw
Simple and fresh tasting. Perfect with a sandwich, and of course for using the last of that cabbage.
Makes 4-6 side dishes
About 4 cups shredded Chinese cabbage
2 teaspoons grated ginger or to taste
1 tablespoon lime juice
1 tablespoon vegetable oil
1-2 tablespooons sliced scallions or chives
1 tablespoon roughtly chopped cilantro
Salt and cayenne pepper to taste
1/2 teaspoon sugar, or to taste
Toss all the ingredients. Taste. Adjust the seasonings if you like with extra salt, cayenne and ginger.
Tip:The freezer is the ideal place to keep herbs, spices, ginger, seeds and nuts. I store them, roughly alphabetized, in long door shelves.