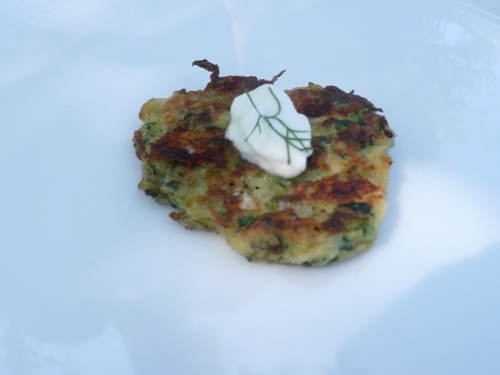 These savory cakes are crisp on the outside, soft and chewy on the inside, and are superb accompanied with a salad of summer tomatoes and chopped Greek olives.
It's a snap to use lots of local goodies in this recipe, such as garden zucchini, farmers market onion, local yogurt and eggs. (I used Hawthorne Valley Farm yogurt andNorth Plain Farm eggs.) You may find local feta, but there isn't any in this neck of the woods. Next time I'm going to try this with regional cottage cheese…
Tip: For the best results cook until browned and crisp both sides, then serve immediately. Makes 3 to 4 servings

3/4 cup plain yogurt
1 pound zucchini
1 teaspoon salt
1/3 cup chopped dill (or dill and parsley or dill and cilantro)
1/4 cup crumbled feta cheese
2 eggs,lightly beaten
1 small onion, chopped
1/4 cup flour or more as needed
1/4 teaspoons cayenne
3 tablespoons olive oil
1. Place a unbleached coffee filter or paper towel in a colander, and spoon the yogurt inside. Sit the colander in a bowl and for 15 to 20 minutes, to allow the yogurt to drip and thicken. Remove yogurt to a small bowl.
2.Grate the zucchini in the food processor. Toss with the salt, and let sit in the colander, over a bowl, 20 to 30 minutes. Remove to a hand towel and squeeze out extra liquid. Place in a medium bowl with the herbs, feta, eggs, onions, flour, and cayenne. Stir to combine.
3. In a large non-stick pan, heat the oil to medium-high. Add the zucchini batter in tablespoons, pressing down with the back of a spoon, until 1/4 to 1/2 inch thick. Test one, cooking on both sides, until crisp and brown, 2 to 3 minutes each side, then adding more flour to the batter if the zucchini is liquidy. Cook in batches. Serve with yogurt on the side or with a small dollop on top of each fritter.
The Recipe
This recipe was adapted from Ayla Algar's Classic Turkish Cooking and was printed in my first book, One Pot Vegetarian Dishes, which is out of print but still available and crammed with tasties. Reading Algar's book endeared me to Turkish food, so I dragged my family there in 2002. It was a memorable trip with disappointing food. One exception was a snack consumed standing at tiny bus stop atop Mt. Olympus —  warm flat bread, freshly made and rolled up with feta and parsley.
Local Food Dogma
Listen to the pros and cons of locavorism.  The New York Times weighs in with an anti-locavore piece, as does Grist with comments from all kinds of knowledgeable folks. Love to hear what you think.
Worried about your eggs?
The recent salmonella scare has everyone hopped up about regulating big egg producers, and they have a good point. But rather than focusing solely on cleaning up giant egg farms, why not develop better policies that support small sustainable farmers with better conditions for animals and workers too? Locavores circumvent the system by buying from farms we know and respect. Fear not, if there are no egg farms near you, you can do some homework. Start by seeing what's available in farmers markets, as well as locally food stores owned stores that support farms, then surf the web for regional egg producers. They're likely to write about how they farm. And if you're in doubt, visit them!  And as for the general safety and labeling of eggs, check out what they do in Europe.