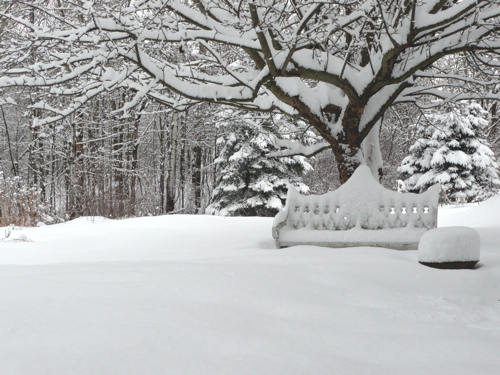 I assembled this soup with the winter roots on hand, while snow dressed the trees outside my kitchen window — a warm hug in a white world.
Serves 8
1 or 2 potatoes, preferably waxy (1-1/2 cups diced)
1 celery root, about 1 pound (1-1/2 cups diced)
2 parsnips (1 cup diced)
5 garlic cloves
2 tablespoons unsalted butter
3 leeks, whites only, ends and tops removed
About 6 cups broth
Salt and pepper to taste
1/2 cup cream
About 2 tablespoons parsley, optional
1-Peel and dice potatoes, celery root and parsnips. Smash the garlic cloves with the heel of your hand on top of a large wide knife. Peel. Reserve the vegetables.
2-Dice the whites of the leeks only. Heat the butter in a medium pan. Add the leeks and cook over medium low heat until they are  translucent but not brown, about 4 minutes.
3-Add the vegetables and 4 cups of the broth. Cook over medium heat until the vegetables are very soft, about 20 minutes. Blend the vegetables and liquid in a blender or food processor in batches, adding extra liquid if needed. Return to the pot, pressing a through a sieve if you like it very smooth. Add more broth to reach a thick soup consistency. Add half the cream, then salt and pepper to taste.
4-To serve, ladle into warm bowls, garnish with a drizzle of cream and a sprinkling of parsley, if you like.