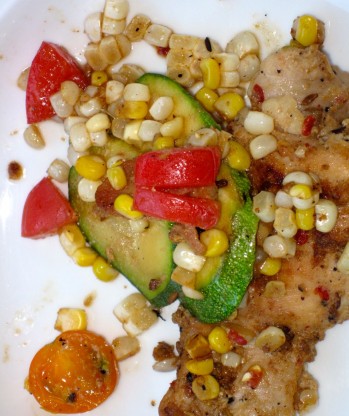 Grilled Chicken with Summer Vegetables
Marinate chicken thighs in local maple yogurt, hot sauce or hot chili pepper flakes, freshly grated ginger, onion powder and salt. Grill. Saute best of the market — corn kernels, zucchini slices, diced tomatoes or cherry tomato halves (or both) — in butter or olive oil. Sprinkle on top.
Below
Cherry tomatoes, okra and husk berries, which are also called ground cherries, at the Tuesday farmers market in Northampton. Upbeat market with a solid girl band and great apricots. And I was surprised to see 3 Berkshire vendors there, which make me almost at home.
Sarah Buttenwieser, local food maven and networker supreme, showed me the ropes and introduced me around. Thank you Sarah!