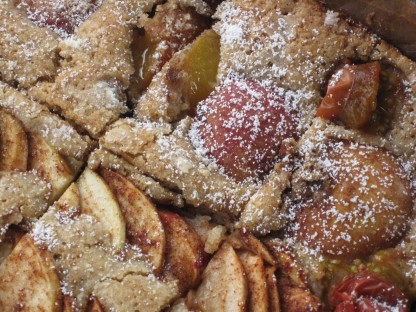 What's- Left-Of-My-Market-Shop-Kuchen
I used apples, peaches and a few cherry tomatoes tossed in sugar.

Little input, great results. This quick 'n easy crowd pleaser is ideal for those who hate to bake or are pressed for time. Serve it to holiday guests or at pot luck meals. I especially like it for brunch.
Better yet, top it with whatever fresh, local fruit is in season. Earlier this year I tripled the recipe, then baked it on a sheet pan for my reading at the Pittsfield Library, using Barlett Orchard's cortland apples. (The smell of their cider donuts drives me wild!)
The recipe is from my new book, The Locavore Way, and is a variation on Jane Brody's popular plum tart recipe, published in The New York Times years ago, which is a loose adaptation of a German Kuchen.
Serves 6-8
1 stick (4 ounces)
unsalted butter,softened
1 cup sugar
2 eggs
½ teaspoon almond or vanilla extract
1 teaspoon ground cardamom
1 cup flour
1 teaspoon baking powder
Best of the fruit harvest (see variations below)
Ground cinnamon
Granulated sugar
Squeeze of lemon juice
Confectioners' sugar
1 to 2 tablespoons sliced almonds (optional)
1. Preheat the oven to 350°F.
2. Using a mixer, food processor, or wooden spoon, mix the butter, sugar, eggs, extract, and cardamom until combined. Add the flour and baking powder, and blend again until combined.
3. Generously grease an 8- or 10-inch springform pan. (Or better yet, use a nonstick one.) Add the batter and spread evenly.Lay the fruit on top, close together in a pattern. Dust with cinnamon and a generous amount of sugar; drizzle with the lemon.
4. Bake for 50 minutes to l hour, or until well browned on top and sides.
5. Dust with confectioners' sugar. If using almonds, toast in a dry pan over medium heat, stirring. Sprinkle over kuchen. When the kuchen is cool, remove the cake; run a knife along the side of the pan if it sticks.
Local food improvisations
Try these or experiment with whatever's been freshly harvested.
• 2 peeled and sliced apples or pears, lightly tossed in cinnamon and nutmeg or a touch of exotic garam masala. Overlap them slightly in concentric circles.
• 2 cups of blueberries, tossed with a touch of maple syrup and a little flour to coat. (I usually have some frozen from summer picking.)
• 12 prune plums, halved lengthwise, pitted, and pressed cutside down in circles. (Try this in the fall)
Update: Guess this recipe really works with all kinds of fruit. Just tried it with peaches and nectarines from the Great Barrington Farmers Market. Wow. (Note: They were ripe, so I tossed them with a touch of flour to absorb their liquid. And I plunged them into boiling water, then pealed them before adding them in large pieces to the uncooked batter,but not sure that was necessary.) Then I tried the recipe again with unpeeled nectarines firm-ripe and a handful of raspberries, with the berries tossed in a touch of flour. That worked wonderfully too.