As with all of these improvisations, the measurements are not precise, but the "recipe" is easy-going, so it will work if you vary it a bit.  The fun comes when you don't measure everything but know the culinary combinations will work well together anyway. This not only saves time, but makes cooking much more pleasurable….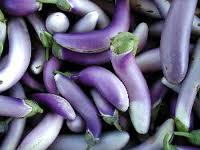 Asian Eggplant
Eggplant is in! I could easily eat this twice a week if I had a source for local Asian eggplants all year round. But now is the time!
Slice about 2 pounds of Asian eggplant on the diagonal. (I got mine from Indian Line Farm). Toss with salt and olive oil and sit in a colander for about 1/2 an hour. Mix about 3 tablespoons of hoison sauce with about 1 tablespoon chopped pickled ginger, 2 minced garlic cloves, 2 teaspoons or so fermented black beans (rinsed if they are super salty, soaked first if they are very dry) and Vietnamese hot sauce to taste. Bring to a simmer for 1 minute or so. Add about 1 teaspoon sesame oil, or add to taste.
Grill the eggplant until soft, toss in the unctuous hoison-black bean sauce. Yum.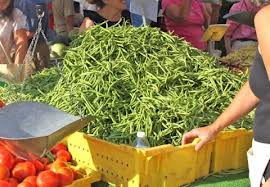 Salad of String Beans, Shrimp and Berries
Best of the market salads always taste terrific. I just tossed of Markcristo Farm string beans, blanched for 2 minutes and chilled, with plump wild caught shrimp in a white balsamic dressing (3 oil, 2 vinegar, mustard, garlic) with a handful of fresh arugula and fresh raspberries. Would have also been equally good with torn mint leaves and feta instead of the arugula.
Sustainable shrimp? The vast majority of shrimp consumed in the United States is imported from Asia and South America and is industrially farm raised. Farm-raised U.S. shrimp is an accepted ecofriendly choice, though it can be a challenge to find. Regional wild shrimp are available from the southeast Atlantic coast and the Gulf of Mexico, Maine pink shrimp are sold in the winter, and trap-caught spot prawns are found on the West Coast.
Don't you have a right to know?
Sign the GMO right to know act, so we can all know what's in our food. Link here.
My mom with me on a summer day long ago.
(Looks like my sister Joanna is on her way.)