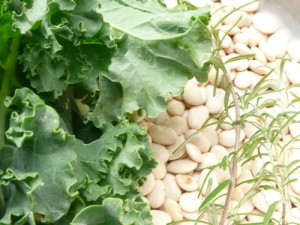 Garlicky Bean Soup with Kale

I admire soup's simple needs — a few ingredients, a little time and a bowl to contain it. But then I come from a family of soup lovers. My father says he's never met a soup he doesn't like. And my great grandmother, a Polish Jew, made such tasty soup that 70 years later her four daughters spoke of it with teary eyes. My husband says my epitaph should read "100 years of soup." It could be the endless soup tastings I held when I revised the Joy of Cooking. But I suspect it's that my soup passion is too much for him. I can't help myself.
And so here's another. a cold weather soup and household staple using fall beans, rosemary, kale and garlic, which makes the broth. If you can't find local beans, try this with large and meaty white cannelloni beans. Makes about 2 quarts
About 3-1/2 quarts water, or as needed
2 cups or 3/4 lb Cannelloni beans or any local bean
2 teaspoons coarsely chopped fresh rosemary leaves
A large head of garlic (or more)
1 cup diced tomatoes
About 2 cups chopped kale leaves
About 2 tablespoons extra virgin olive oil
About 1 tablespoon red wine vinegar or more to taste
Generous salt and pepper to taste
Local grating cheese to taste, optional
1-Combine the 3 quarts water, beans and rosemary in a large pot. Separate the cloves of garlic in a bulb. Crush each slightly with the heel of your hand or your fist against the flat of a large knife, then remove the peels. Add to the pot whole. (Fear not, they get mild as they cook, so no need to chop.)
2-Bring to a boil. Lower to a simmer and cook, partly covered. for about 2 hours, or until the beans are quite soft and creamy, adding water if necessary but keeping it thick. Don't worry if it takes longer; beans vary. ( If you like it creamier you can blend the soup just a bit with an immersion blender until smoother but still chunky. Or pull out 2 cups of the soup and puree in the food processor, then add it back to the pot.)
3. Add the tomatoes. (If they are canned, cook for another 20 minutes.) Right before serving,  add the kale, olive oil, vinegar and generous amounts of salt and pepper to taste. Simmer for 1 minute, just to wilt the kale, then serve immediately warm bowls. If you like, pass around a grater and some local hard cheese.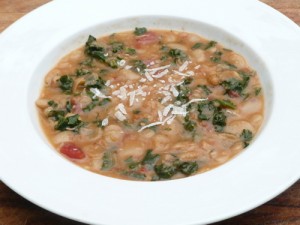 Snacking on Kale
(Excerpt from my new book, The Locavore Way)
For a healthful snack, try crispy kale. Remove tough stems, and tear or chop a bunch of kale. Wash, dry, and toss with just a touch of olive oil and salt (or replace the salt with just a touch of grated hard cheese). Place the kale in a rimmed baking sheet in a preheated 350 degree oven; roast, stirring once, until crisp to the touch but still green, about 10 to 12 minutes.