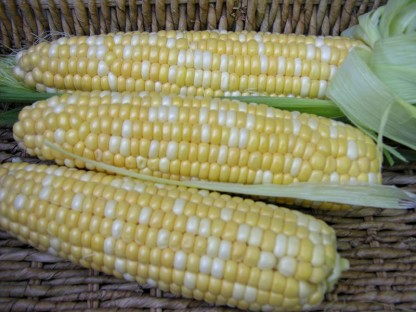 Pictures from the wonderful Berkshire Food Journal. Visit them!
I         Only Eat Corn When It's In Season Near You
The local corn season is short and sweet. So savor it while it's available until you are fully satisfied. Start by celebrating each year's harvest with a corn on the cob corn dinner, piling up cobs like cord wood. After that, eat it so often that when the frost comes you're almost relieved to see it go. Then wait until next year. The flown in stuff doesn't make the cut and waiting makes the local crop taste even better.
II         Buy it directly from the farmer or Grow Your Own
It's a pleasure to buy from directly from those that grow it. Farmers markets abound in the country, city and suburbs, so you've got no excuse. But, if you don't know where the closest one is, search one using this Local Harvest link.  And don't forget to screech to a halt when you see a farm stand. Meeting your farmer puts people, not faceless corporations, back into the food chain.
Urban farmers out there: Grow your own. It's a commitment, because you need a roomy backyard or a community garden. (You're likely to be luckier than I was here in the country. A family of raccoons took one bite out of each cob as soon as it was ready to harvest!)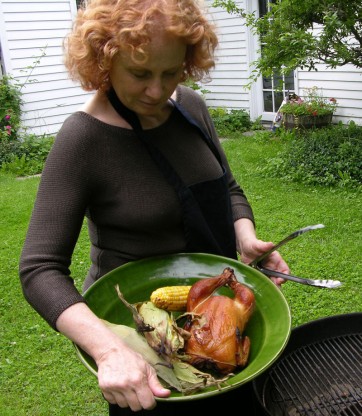 III         Try Varietals
Sweet corn, the kind you and I eat in August, has been hybridized almost forever. Since the 80's, SuperSweet corn, which can be up to 10 times sweeter than the conventional corn, has become hugely popular. I like corn that takes corny rather than just sweet, and you may have corn preferences too. So taste around. Eating all kinds of corn keeps a larger spectrum of it available, yielding more flavor choices and a bio-diverse world.
IV         Start with Corn on the Cob
When the first crop is ready for harvest feast on it in its purest form, so its flavor shines through. You can't beat it steamed in water for 3 or so minutes then tossed with butter, salt, and pepper. Then move on to topping variations by mixing room temperature butter or (olive oil) with flavoring ingredients to taste.
Here are a few —
•White Miso Compound, a favorite in my house. Just stir in a touch of miso paste.
•Herb Butter, using your favorite herb, such as basil, or dill For Herb-Chive Butter add chopped chives or scallion greens.
•Garlic Butter. Simmer butter or olive oil with minced garlic.
•Lemon Pepper Butter or olive oil, using cracked pepper and lemon zest.
•Chipotle Butter, going light on canned minced chipotle peppers
•Parmesan Butter.
• Your new invention!
For a smoky flavor,grill corn. (See above!) Remove the silk but not the husks, and then soak before grilling. Or for a deeper smoke, grill husked ears directly. The browner the kernels the smokier the taste, But don't overdo it, because you still want to taste the corn. (I like a cob grilled with some bright yellow and some nicely browned kernels.) Corning grilled over wood will add the best flavor, next best is charcoal and then gas.
V         Shuck More than You Need
Once you start shucking keep going.  I never shuck less than a six, because shucked corn is fabulous to have on hand. Steam or grill it for kernels to use in other dishes. (Or eat cold or reheated, as I've been known to do for breakfast.) Keep cooked corn in the fridge for a summer staple.
VI         Go Kernel Crazy
When corn's in, its kernels add a sweet summery taste to everything. To remove kernels, husk, remove the silk, and then slice down the length of the cob with a sharp knife. Use already cooked corn, or you can steam or microwave kernels for a minute, then add into any kind of vegetable, grain, or cooked dried bean dish. Shave kernels right off the cob into any kind of chili, stew soup or salad.
Sweet corn and tangy lemon pair well in summer salads. Make a lemon dressing with 1 part fresh lemon juice to 3 parts olive oil, adding some minced garlic and a touch of mustard if you like.
Use on:
•A Summer Bean and Corn Salad with canned, drained and rinsed cannellini beans and halved heirloom cherry tomatoes, adding herbs for the garden if you like.
• Summer Bulgur Salad, with cooked bulgur, corn kernels and tons of chopped parsley
•Warm Rice Salad with warmed left over brown rice from your Chinese take-out restaurant, with kernels, cilantro and scallions  and freshly grated ginger. You can even add cubes of chicken or fish.
•Pasta salad with other seasonal vegetables and herbs, spiking it with vinegar and coarsely grated Parmesan.
•And don't forget to add corn kernels to your favorite potato salad.
VII         Combine Corn and Tomatoes
Corn and tomatoes come into season together and were born to marry. Make a homemade tomato-corn salsa using chopped tomatoes, cilantro, jalapeños and a touch of garlic and onion. You'll never look at the jarred stuff again. Enjoy fresh tomato salsa with corn pudding for which recipes abound. Shave lightly cooked corn kernels atop a tomato, mozzarella salad for a sweet and pretty hit that balances the acidity of the tomatoes.
 VIII         Entertain the Corn Way
Corn holds up to an entire meal, so go for it! Hold a potluck or cook your own feast with corn in every course. Remember it's a long wait until next year so eat up. Or cut cobs in half and hold a corn variety tasting within a meal or on it's own. Supply your own or have people bring their favorites.
IX         Take Corny Vacations
Visiting relatives or hitting the road this summer? Drop by a local farm stand or farmers market and pick up corn. Eat out at restaurants that boast of local corn. Top it off with by finding a corn maze in the area and bringing the kids, or the kid within.
X          Spread the word
Share stories about where your great corn comes from. That will help keep your farmer in business and their variety of corn alive and well. Besides, it pleasure to enjoy great food together.
"Sex is good, but not as good as fresh, sweet corn, " says Garrison Keillor.