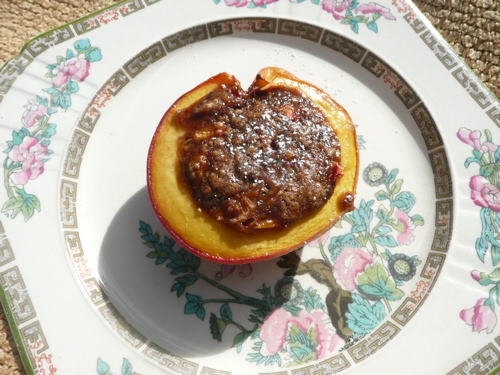 What's in this month's post?
– Two recipes using September's crop, one sweet and one savory
-Lots of culinary improvisations for the season (These appear irregularly on my facebook page)
-An invitation to The Berkshire Botanical Garden Harvest Festival  (with a call for volunteers and donated pies)
-Upcoming Calendar Events in Cape May, Worthington and Stockbridge
-Articles you might enjoy on local food topics

*****
Two recipes, sweet and savory
Baked Peaches or Pears with Ginger Snaps and Chocolate
End of The Day September Ratatouille
-Lots of culinary improvisations for the season

 Warm Tomato-Plum Chutney (eaten with lamb)
Cut up tomatoes and plums in all colors and varieties. (About 2 handfuls.) Throw in a small pot with 1 crushed garlic clove, 1 hot chili paper & some olive oil. Cook for 1-2 minutes to warm. Pull out garlic and chili. Throw in strips of fresh basil. Add salt and a splash of white balsamic. Colorful, sweet and tart, great with lamb.
Italian Flat Beans with Garden Tarragon
Last night I picked a TON of Italian Flat Beans (Romano) from my garden. Love their meaty flavor steamed and tossed with garlic oil and fresh garden tarragon. Mmm
Grilled Sweet and Sour Pork Loin
2 loins. Marinate 3-6 hrs:1/4 cup molasses,1/4 cup honey,3 Tbsp apple vinegar,1/4 cup Dijon mustard,3 Tbsp mustard seeds,1 Tbsp cumin, 2 tsp coriander,1 Tbsp chopped pickled ginger. After marinating: Rub GENEROUSLY w/ sea salt & cracked pepper. Grill over medium high heat, about 20 minutes. (Should be slightly pink.) Rest 5 Min. Boil marinade w/ 1 Tbsp of mustard, 1 Tbsp honey, 3 Tbsp of pickled ginger juice. Brush loin,slice thinly,drizzle over slices.
Simple August Tomato Salsa
Chop garden or farmers market tomatoes. (About 4 cups) Add a minced garlic clove, about 1/4 cup chopped onions and 1-2 chopped chili peppers. Stir in chopped cilantro and salt to taste. This blows the jarred stuff out of the water!]
Corn on the Cob with Miso Butter
Grill or steam corn and rub it with sweet butter mixed with white miso to taste.
Last of Summer Risotto with Cherry Tomatoes, Fresh Corn and a Little Kick
Make a plain risotto. To the sautéed onion or leek, add 1/4 diced poblano chili, ½ diced fresh hot chili pepper. Proceed with making the risotto. Then, 5 minutes before serving, add a good handful of fresh corn kernels, & slivered basil. (Stack the leaves, then roll and slice.) Stir in a fresh goat cheese or local hard grating cheese to taste. Top with quartered cherry tomatoes tossed in a little bit minced garlic and olive oil.
 Flamed Peaches with Yogurt (or ice cream)
Plunge a few ripe peaches into boiling water for a few seconds. Drain and run under cold water. Slip the peals off. Cut up the flesh, removing the pit. Warm very briefly, shaking the pan, over medium heat with a little sugar in a tiny bit of butter. Add a few grates of nutmeg and splash of liquor (your favorite). Tip the pan away from you and ignite with a match or lighter to burn off the alcohol. Serve over local yogurt.
Grilled Flat Bread Pizza with August Tomatoes and Fresh Goat Cheese
Dice local tomatoes.Put them in a colander with chopped kalamata olives, garlic and a little salt. (Catch juices in a bowl.) Grill store-bought flat bread (Pocketless pita) that's been lightly brushed with olive oil. Turn over and spread w/ local goat cheese & sprinkle with tomato mixture. Grill until pipping hot. Sprinkle w/ slivered basil. Variation, add diced hot chili peppers.
Naomi's Parsley Pesto with Fresh Savory
Make a pesto with parsley instead of basil. (Pesto is basil, olive oil, pine nuts or walnuts, garlic & a hard cheese in the Parmesan family). Instead of basil, add 3/4 parsley & 1/4 summer savory. You can also substitute a spring of rosemary leaves for the savory or try cilantro pesto with 50/50 parsley and cilantro. (Use on the pizza above too!)
There is nothing like it! This year I'll be producing the 77th annual Harvest Festival in Stockbridge, Massachusetts on Oct 1-2 at the Berkshire Botanical Gardens. It's The Garden's major fundraising event with 10-15,000 attendees.
I'm adding a new farmers market and artisan food producer section. (Think local grass fed local beef hot dogs, grilled pizza made with local goodies and much more.)
Please join us on Facebook for updates, check out all the vendors, music and activities on our webpage.
Want to help? Please contact me to volunteer for a 4 hour shifts (free entrance) or to donate pies (time to cut up your local apples!)
Join us on Facebook for updates!
Hope to see you there!
-Upcoming Calendar Events
August 31, 7 pm, Worthington, MA Library. Talk and book signing. For advanced locavores: Where do we go from here?
September 17, Cape May Forum, Key Note Speaker. Guess Who's Coming For Dinner, The Politics of Food in the 21st Century. Come for the whole forum! Sept 16-18 & 23-25.
October 1-2, I'm producing the spectacular Berkshire Harvest Festival at the Berkshire Botanical Garden in Stockbridge, MA. Gardens. Please join us on Facebook.
-Articles that you might enjoy on local food topics
Findings:  Fresh and Direct From the Garden an Ocean Away
Local Food Has Been No Easy Sell in Appalachia