What's in the issue?



Let's Cook!
*My December Holiday Cooking Class
*Thanksgiving Recipes, Tips and Free Meals
Local and Regional Food News
*Food to Compost, a Green Harvest Festival
*"It Takes a Region" Conference
*Farm to School for Tots
*Berkshire Grown Holiday Farmers Markets
*Locavore Award
More Food For Fun
*3 Local Food Improvisations
Scroll down for LOADS of fabulous links!

************************
*December Holiday Cooking Class
Join me on December 17th for my Locavore Holiday Cooking Class at The Institute of Culinary Education in Manhattan. It's a fun, informative and empowering class. Sign up early as my Manhattan classes usually fill!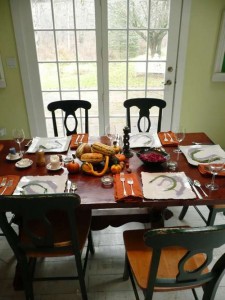 Country Thanksgiving Table at My House in West Stockbridge, Massachusetts
*Food to Compost, a Green Harvest Festival
Last month 1,600 pounds of garbage was converted to compost at the 77th annual Harvest Festival at the Berkshire Botanical Gardens in Stockbridge, MA. 
As the festival's new producer, and in keeping with the Garden's mission, I piloted this Zero Waste Program headed up by the fabulous Devi Sharp. Together with 8 volunteers, Devi helped ferret out the 2 tons of compostable garbage that would otherwise have gone into the local landfill. Tom Touponce, composter from Meadow Farm in Lee, Massachusetts, picked up the waste to convert into farm and garden compost. (Garden waste to garden gold.)
Thanks to Juliette Haas and Jamie Cahillane, from the Center for EcoTechnology for steering us in the right direction. 
Postscript: This was my first year producing the festival, and I gave it a locavore flavor by adding a farmers market, local artisan food producer's section and more. Hope you'll join us next year.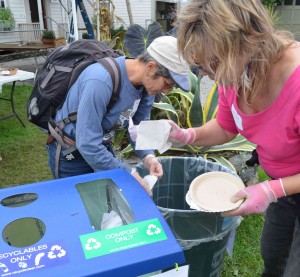 In this picture, the festival's"green team" is performing the glamorous task of re-sorting garbage that was put in the wrong bin. All disposables — cups,plates, etc —were compostable and bins were labeled clearly.  Nevertheless, separating garbage in a new way wasn't easy for the 10,000 festival attendees gobbling up food at the festival, so sorting it again was essential. Educating the public is part of the zero waste process….
*"It Takes a Region" Conference
This is Northeast Sustainable Agriculture Working Group's 19th annual meeting and working conference for people seriously committed to food system change. (November 11-12 in Albany, New York.) By taking a regional approach, we can grow our thinking and our work to develop a truly sustainable and resilient food system. Come prepared to roll up your sleeves for in-depth working sessions, provocative debates, and hands-on exercises, as the conference tackles important questions about regional food systems and how we can achieve our shared goals.
*Farm to School for Tots
I met fellow delegate Sara Teece two years ago at Slow Food's Terra Madre in Italy, but she's Food Director of Square One, Early Childhood Centers of Greater Springfield, only an hour away from my home.
We both have an interest in feeding school kids farm-fresh foods. And, she had used my MA Farm to Table Cookbook in her efforts to feed 100's of pre-schoolers in Springfield, many of whom live below the poverty level. We reconnected again last month in Springfiield, where I did a training session for pre-school cooks on using the local harvest.
Square One is now in their 3rd full season of ordering food from local farmers. With the aid of Farm to Preschool they receive produce from "our farmer" Joe Czajkowski, who brings his and other local farms products to their schools.  Sara tells me that through "local purchasing we've been able to save money, improve our menus nutritionally, offer a better quality product, and support the local economy."
The kids at Square One, many of whom have little access to fresh food, savored local strawberries, blueberries and melons this summer. And now, they have tons of butternut, sweet potatoes and locally grown apples to look forward to.
*Berkshire Grown's 3rd Annual Holiday Farmers Markets
I was fortunate help initiate the Holiday Farmers Markets here in the Berkshires in Western Massachusetts. Cold winter markets give local farmers a chance to extend their selling season and consumers the opportunity to buy farm fresh foods for the holidays. What available? Winter roots, value added foods, like maple syrup and other farm crops, as well as hand-made crafts, which all make meaningful holiday meals and gifts. Better yet, the markets are all smiles, a place of joy, where community members come together before we all hold up for the winter.
So mark your calendars for November's Holday Markets: In Great Barrington go to Muddy Brook Elementary School Gymnasium, 318 Monument Valley Road,. on Saturday, November 19i1.  In Williamstown go to the Williams College Towne Field House, 82 Latham Street, on Saturday December 17.
I can't wait!
*Winner of the Victoria A. Simons Locavore Award
This fall, I was honored to receive this award along with a generous $1500 check for my farm to table work over the last 2 decades.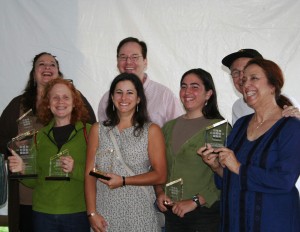 The red haired winner (me) along with the nominees, who all do stellar farm to table work in the region.
The Nominees, not in any particular order —
Liz Beals, Stuyvesant Falls, NY, for her creative efforts to raise awareness and use of local foods at Beth's Farm Kitchen. She has worked with nearly a dozen farms and restaurants to create value-added products featuring local ingredients.
Columbia County Backpack Program, Hudson, NY, for providing weekend food for children who lack predictable access to meals outside of school.
Anna Dawson, Kinderhook, NY, a long-time family farmer. who in her commercial kitchen, the Harvest Kitchen, prepares and freezes ready-made meals and meal components and shares her skills and knowledge on handling and preparing local foods via public classes.
Amy Lawton, Wild Hive Farm Store & Café, Clinton Corners, NY, known for its grain production, which is micro-milled into fresh flours for their own baked goods, and also distributed through a CSA program to local bakers and restaurants.
Nassau Cooperative Community Food Compact, Nassau, NY,  an all-volunteer organization devoted to bringing nutritious, locally produced foods to a community that does not have a grocery store.
Ellen Poggi, Hand Hollow Farm, East Chatham, NY, offering organically grown vegetables, chicken and flowers and herbs to area residents.
David Robinson, Bezalel Gables Productions, Chatham, co-founder of Columbia County Bounty and originator of the Bounty of the County dinner event, who also created the Speed-Networking event that allowed farmers and chefs to connect quickly and simply.
Lori J. Selden, CEO, Mexican Radio Restaurant Group, Hudson, well respected restaurateur and co-founder of Columbia County Bounty, where she helped develop strong culinary and agritourism branding, as well as cementing farming partnerships with both local and neighboring communities.
Staron's Farm Stand, Chatham, a community gathering place as well as a source for farm fresh products produced by the Staron family, who have been farming locally for 30+ years.The farm also donates produce to local food pantries and other non-profit organizations.
*3 Local Food Improvisations
These impromptu dishes use whatever is around the house.  Join me on The Locavore Way Facebook Page where they're posted irregularly before they're gathered up for these Locavore-of-the-Month blog posts.
Cricket Creek Farm Short Ribs with Sauerkraut, Leeks and Beer.
Rinse 3 grass fed beef short ribs (attached) and rub w/ some kosher salt. Lay on large sheet of heavy foil inside a baking pan. Top with 3/4 cup sauerkraut, preferably locally make, and whites of 3 freshly harvested leeks, thickly sliced and rinsed. Add ¾ cup locally brewed beer. Generously grind pepper on top. Seal well, leaving some room inside the bundle. Cook at 350 degrees until fork-tender, about 3 hours. Remove any visible fat and enjoy. (I liked this with mashed potatoes and kale.)
Postscript: Picked up these ribs in the summer, the day I spent on the farm making cheese, but they seemed too so wintery to eat, so I kept them frozen. But on this snowy day the challenge was to cook up a tasty low-labor short dish using what was around. The result was fabulous!
Locavore Caldo Verde (Portugeuse Kale Soup)
Local spicy sausages, flat leaf kale and little potatoes from McEnroe's Farm in New York make this satisfying Portuguese-style soup. Simmer whole sausages in water or broth to cover. Cool, skim off fat, remove and slice. Simmer diced potatoes with chopped whites of leeks until done. Add chopped Kale and sausages to water/broth. Season to taste. You can add lots more, like other veggies, garlic, herbs. Or saute the leek and sausage in olive oil for a richer soup. Up to you!  Postscript: I first fell in love with this soup on the dock in Cape Cod warming up before a memorable whale watch. Later I adapted it for Joy of Cooking. This is the Locavore version.
Indian Butternut Squash
Throw a butternut squash into a 350 oven. Roast until soft all the way through, 45-1 hr. Split, remove and discard seeds, skin and fiber. Puree the meat with spices cooked for 30 seconds in a touch of butter: coriander, cumin, cayenne. Mix with salt and grainy mustard to taste. Serve hot as a side dish.
**Thanks to Judith Lerner and The Berkshire Food Journal