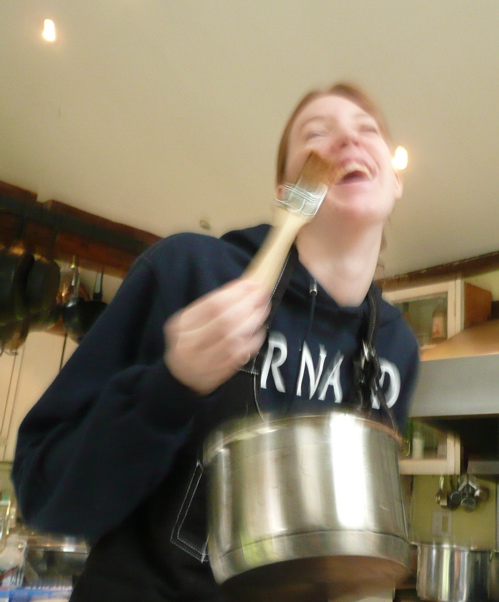 (My daughter, Emma, tasting.)
HAVE A WONDERFUL THANKSGIVING ALL.
Here are the tips in no particular order —

1-Include what local food you can. This is an intuitive move, as it's the season when classic Thanksgiving foods have arrived — apples, winter squash, turkey and more. I have lots of recipes using easy-to-find local food here.
2-Savor your meal, sharing the back-story of its ingredients, which will enrich your Thanksgiving and spread the locavore gospel. Be sure to tell any quirky stories about where you found the food or met the farmer, why you picked a certain variety of apple, etc. When you share farm fresh food with friends and family it creates new farm customers who will support our struggling farms by buying their bounty.
3-Do as much beforehand as possible. You may be able prepare the meal in a day, but that doesn't mean you'll enjoy yourself once the company arrives. Prep a good portion of the meal the day before. Peel the potatoes and leave them out in a large pot of water so they don't brown. Trim, wash and dry greens. Cut vegetables. Prepare the stuffing (but don't stuff the bird). Make any cranberry sauce, savory, sweet chutney or relish, etc.  And set the table on Wednesday too.
4-Design a menu that's not too oven dependent. When you pull the turkey out you can reheat or cook fast-cooking dishes, but try to prepare some dishes on top of the stove to save oven space. Try greens or wokked vegetables of any kind. Even consider some raw vegetable dishes, like a grated carrot salad. An oven can only hold so much.
5-Get help. Cooking with friends and family is part of the fun. (Good music, potato pealing and hot cider.) Or ask those who can cook to bring something, preferably a dish that doesn't need long reheating. Those who can't cook can bring local cider, regional wines,water or locally make pie. And everyone can chip in with clean-up. (That's when you hear the best gossip anyway.)
6-Keep it simple. You don't have to have a thousand dishes for a swell Thanksgiving feast. Quality is more important than quantity.
7-Respect tradition but break it up. Even traditionalists that hate to deviate from the classic should consider including at least one new dish. (My family finds it hard to try anything new on Thanksgiving, but I try to at least vary the vegetables or create a new fruit relish.)
8-Plain is sometimes best. Prime example? You can gussy up sweet potatoes all you want, but they are best simply washed, poked a few times with a knife and thrown into a warm oven until soft and luscious. (Great with gravy or cranberry sauce.)  If you need to roast them beforehand, because there isn't enough oven space, just crank up the oven and reheat them once the turkey comes out.
9-Be considerate, but don't worry too much about special diets. If folks are vegetarian there are tons of great side dishes they can enjoy. If they are lactose intolerant fear not;most dishes don't contain dairy and just point out the dairy dishes when everyone sits down. (Or omit butter from all dishes and some on the table.)
10-Mood is as important as food. People get flustered on Thanksgiving about everything being right. But even a foodie like me knows that mood is more important than food sometimes: bring compassion and love to the table along with plenty of thanks. (Even for relatives you don't like.) Light the candles and put on some upbeat music for arriving guests.
11-Forgive the kids. Kids might not want to sit at the table forever. Have them join you for the meal and then let them fly, so you can get down to chatting.
12-Make too much. Leftovers are even better than the meal. But don't do what I did three years ago, when for an intimate party of six I prepared enough for 30. (Sometimes it's hard for me to scale down.)
13-Give thanks to family and friends. And remember the farmers who grew food. Raise a glass, sing a song, cheer. How fortunate we are to be able eat a bountiful meal grown by our farmers!
Laying out all the serving dishes, so I don't have to run around at the last minute.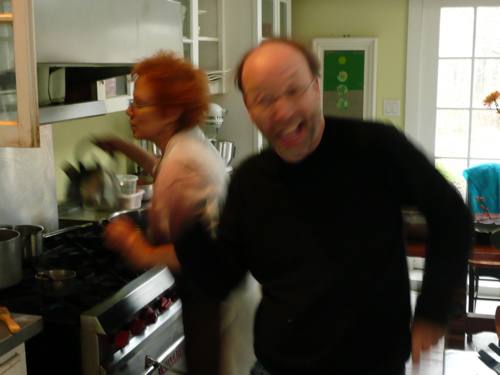 Fun is allowed. I'm cooking; my husband, Tommy, is dancing.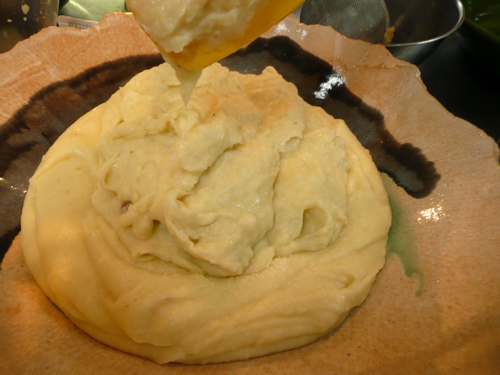 Yeah, keep it simple: Steamed potatoes, celery root and garlic whipped together.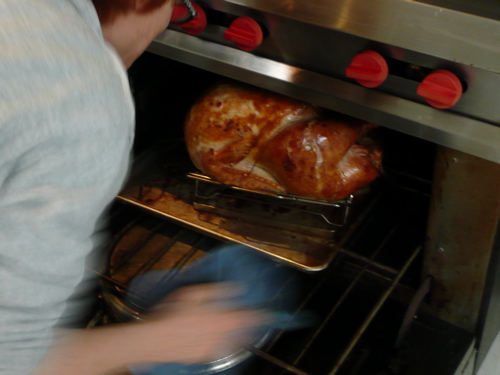 Baste the bird often. Remember to do it fast or pull it out of the oven or your oven will cool.