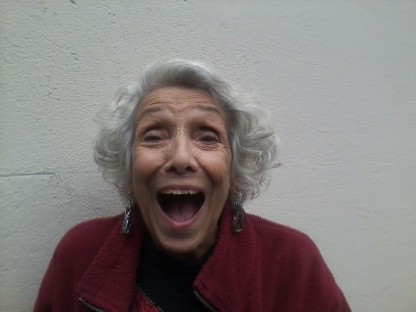 Thanksgiving has always been my mom's favorite holiday, and leftover's night was always one of my favorite dinners.

I  often make a gigantic turkey for Thanksgiving with large batches of side dishes, because leftovers taste even better than the main event. (Especially once I've relaxed and the feasting is over.) This wrap uses the classic Thanksgiving leftovers you'll probably have on hand, but feel free to improvise with whatever's in the fridge, substituting cornbread for bread stuffing, or adding anything from pureed yams to brussels sprouts. If all the cranberry sauce is gone, don't despair, try major gray's mango chutney instead, it's delicious. Serves 4
1-1/3 cups bread stuffing
2 cups shredded cooked turkey
1/4 cup gravy (if none left-over, see quick version below)
4 large burrito size flour tortillas
salt and pepper to taste
1/4 cup cranberry sauce
To assemble: Reheat the stuffing, turkey, and gravy in the microwave, just until hot, all at once or in batches, depending on the size of your microwave. Heat the tortillas, one at a time, in a large caste iron skillet or directly over a gas flame, turning frequently, for 15-20 seconds. Lay out a tortilla. Spread about l/3 cup of stuffing over the center, leaving a l-1/2 inch border around the edge. Scatter about 1/2 a cup of turkey over the top. Sprinkle with a pinch salt and pepper, then top with l tablespoon gravy and cranberry sauce, using a spoon to spread, if necessary. Fold in the sides and roll. Complete wraps with the remaining ingredients, or if you prefer, assemble all at once, assembly-line style.
Cold Variation:
Use lavash instead of tortillas, substitute l/4 cup mayonnaise for the gravy, add l/4 bunch watercress leaves. To assemble, spread each lavash with l tablespoon mayonnaise first, and scatter with the remaining ingredient in this order: turkey, salt and pepper, cranberry sauce, watercress. Roll. Cut in half on the bias. Wrap in waxed paper or plastic to store or transport.
 Low-Fat Beat:
Low-fat versions that are no sacrifice at all:  Hot: Add more cranberry sauce and omit the gravy . Cold: Omit the mayonnaise and add more cranberry sauce.   Note: Stuffing can be quite fatty,  but, if it isn't stuffed into the turkey, a very low-fat version is a snap to assemble, using either homemade or packaged stuffing.
 Make-Ahead/Take Away:
These sturdy wraps can be made up to a day in advance. Hot wrap can be reheated in the oven, wrapped in foil or in the microwave.
 *Quick Gravy:
l tablespoon butter
l tablespoon flour
1/2 cup chicken stock
salt to taste if homemade
Melt the butter in a small skillet or saucepan. Add the flour and cook, over medium-low heat, stirring frequent, until it is nut brown, about 2-3 minutes. Pour in the stock, whisking constantly, until it is thick, about 2 minutes. Salt to taste if using homemade stock.