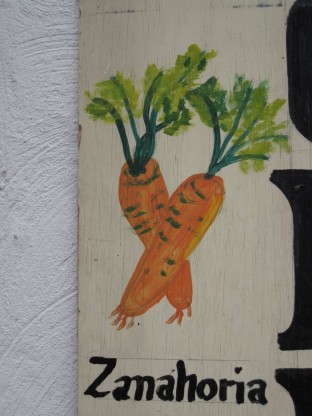 The carrots here in Mexico are always distinctive — bright, a touch earthy, with a flavor that screams ORANGE. Longtime farmer David Inglis says an African friend told him that they are called "spears of light," so perhaps the light is what does it for them here…..
It's really true that we taste the place, any place, in its local food: its climate, water, soil….its terroir.
Here in Mexico, each time I put heat to food, I have little control over its ultimate flavor, because I don't have a deep understanding of the taste of each ingredient, which is grounded in this particular place.
These place-based flavors are satisfying when they work wonderfully, as in the Mexican carrots, which taste so astoundingly carroty — so orange, unlike all but the very best carrots in The States.
But they can be frustrating too. Even the simple Italian-style pasta dish that I cooked last night, part of my workday repertoire at home  — here with local Swiss chard, Mexican olive oil and garlic  — tasted Mexican, which was hardly my intention!
Is this how cooking feels to those who don't cook much? The end result always a surprise?
And then, to further complicate matters,  there's the difference, here and anywhere, between ingredients grown and produced in different ways. The fresh greens picked from organic farm above vs the Mexican commodity greens that I bought at the local market. You get the drill.
Cooking here is always both frustrating and fascinating.  I'm a beginner all over again.
Easiest pasta with Swiss Chard (or any greens)
Ingredients
4 or so cloves of garlic, minced
2 tablespoons to 1/4 cup olive oil, as you like it
One or two bunches of scallions, white and green, sliced
One pound short pasta, your favorite shape
One giant bunch of cooking greens, your favorite (I used chard)
Hot chili pepper flakes
Grated cheese if you like it
Procedure
1-Wash and dry the greens (It's OK if there is still a little water clinging to them.). Pile the leaves up, roll them and thinly slice. Set aside. (Note:If there are tough stems, cut them off before rolling the greens.)
2-Bring at least 4 quarts very well salted water to a rolling boil.
3-Meanwhile, saute the garlic in the olive oil with the scallion whites (reserving their greens) over low heat until fragrant but not brown. Set aside off the heat.
4-When the pasta is al dente, cooked but still firm, plunge in the chard, spinach or any other greens along with the scallion greens. Swirl with a wooden spoon and immediately drain.
5-Immediately toss with the garlic oil, salt and hot chili pepper flakes to taste. Serve in bowls, sprinkled with cheese.
Variations:
1-Cook minced jalapeno with the garlic, omit the chili pepper flakes.
2-Use shells and raisins and garbanzos to the mix. (Just add to the colander)
3-Instead of plunging the greens into water, saute them in the garlic oil, just until wilted.
4-If you use spinach, add a some freshly grated nutmeg.