What can you cook up with all these last-of-the-season onions, tomatoes and  peppers? You'll love the sweet flavor and dense, sticky texture of this versatile grain salad. It is easy to prepare and particularly good cold. Bulgur, which is also called cracked wheat, can be found in specialty and health food stores, as well as in some supermarkets. Serves about 8
l/4 cup olive oil
l large sweet onion, small dice
2 bell peppers, mixed colors (or 2 red or 1 red and one yellow)
2 cloves garlic, peeled and sliced
1 jalapeno pepper, seeded and minced
2 cups diced ripe tomatoes in their juices*
2 cups medium or coarse bulgur (not fine)
About 1-1/2 teaspoons salt
1 generous handful of coarsely chopped parsley
Juice of one lemon
l. Add the oil to a medium sauce pan over medium heat. Stir in the onion, peppers, garlic and jalapeno. Cook, stirring occasionally, until the onion is translucent and the peppers softened, about 5 minutes.
2. Pour in the salt and 1-1/4 cups water, adding an extra 2 tablespoons water if the tomatoes aren't very juicy. Bring the mixture to a boil then add the bulgur. Immediately reduce the heat to very low and cover the pot for about 2 minutes. Add the tomatoes and their juices. Cover, turn off the heat, but keep the pot on the burner until the liquid is absorbed, about 20 minutes.
3-When the bulgur is nutty and tender-firm but not crunchy, empty it into a bowl to cool. Toss with the parsley and lemon juice, adding salt and pepper if necessary. Serve hot, cold or room temperature.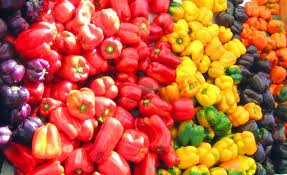 I was the founding director of Berkshire Grown, an early innovator in the local food movement, and I'm thrilled they're running these fun and informative workshops. My workshop is on September 18th, a Saturday, 10:00-noon: It's an Herb Extravaganza, focusing on preserving fall herbs, mostly through drying and freezing with great herb sauces and pestos. Cost: $40.00. Location: My West Stockbridge Massachusetts teaching kitchen (To register and for information call 413 232 7174) Please join me!
Registration is required for all the Share the Bounty classes. Visit Berkshire Grown, a non-profit supporting local farmers, for details on other workshops. Call or email me about mine! (Number above)
Apples and figs at the Emily Dickinson Museum
Amherst MA – On Saturday September 25,  the Emily Dickinson Museum. Free, on September 25th from 10 a.m. to 12 p.m. landscape historian and gardener Marta McDowell will lead a workshop on apples and figs, two fruits that the Dickinson family grew. During "Put down the apple Adam": The Dickinsons' Apples and Figs.  McDowell, will discuss the horticulture of apples and figs and how they were eaten and preserved. The program will begin with a talk, followed by a tasting of heirloom apples, figs, and products made from Dickinson-era recipes.The official museum website is www.EmilyDickinsonMuseum.org