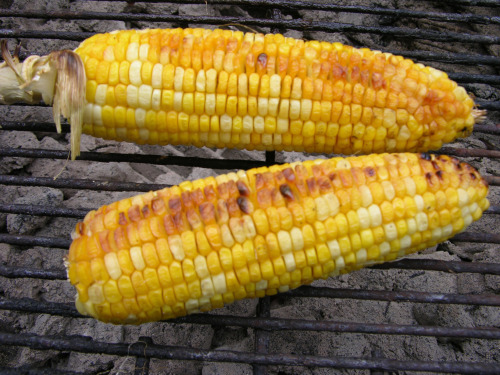 (Photo by Caroline Alexander of Berkshire Food Journal)
Sex is good, but not as good as fresh, sweet corn. — Garrison Keillor
Finally, local corn has arrived. The season's painfully short, so be sure to eat it for breakfast, lunch and dinner, so it's firmly planted in your taste memory until next year.
I like to start my cornfest with the simple taste of summer — warm cobs, lathered with sweet butter, sprinkled with salt and freshly ground pepper. Then, after a week or two of all-corn-all-the-time, I concoct salads, puddings, soups, before returning to the purity of corn on the cob, this time lightly seasoned with fun compound butters like the ones here. My current favorite is Miso Butter on Grilled Corn, inspired by David Change of Momofuku fame. Let me know which one you like. This recipe will serve as many or few folks as you like.
Ingredients
Corn, 1-2 per person (3 for a meal)
Sweet butter, 1 teaspoon-1 tablespoon per cob, according to taste
Compound butter seasonings (as below)
Salt and pepper to taste
Procedure
1-Prepare compound butter by mixing about 1 teaspoon to 1 tablespoon of softened sweet butter per cob — quantity will depend on your taste for butter — with any of the suggested seasonings below. As a rule of thumb, don't go too heavily on the seasonings. Salt and pepper can be added to the butter or at the table to each person's taste. Set aside. (I like to make extra butter to freeze for later use.)
2-Cook the corn either by steaming, boiling or grilling it. To steam or boil: Cook the husked corn by steaming it in 2 inches of water, covered, for 3 minutes, or by plunging it into boiling water for 2 minutes. Drain. To grill: Peel back but don't remove the husks. Remove the silk as best you can and replace the attached husks. (You can tie them on with a strip of husk or string or let them hang loosely.) Soak in a sink full of water for 5 minutes to an hour. Grilling over medium heat, until done, about 10 minutes or longer. (For a stronger flavor, grill husked corn directly on the grill.)
3-Lather corn with the compound butter, adding salt and pepper to taste if it wasn't added to the butter when it was mixed.
Compound butter to chose from —
*Chopped mint and chives
*Chipolte or chili powder and lime zest (serve with lime wedges)
*White miso paste (omit the salt)
*Chopped scallions greens and fresh grated ginger
*Cracked pepper and lemon zest (optional: lemon wedges)
*Thai curry paste (go lightly) or and chopped basil or cilantro (optional: lime wedges)
*Cumin powder (go lightly, toast briefly in a dry skillet), lemon zest, cayenne pepper (optional: lemon wedges)
*Chopped chervil, parsley, tarragon and chives
*Pesto (traditional basil or with other herbs, such as cilantro or mint)
*As you can see, you are only limited by your imagination!

A good flick: King Corn
Now that you've enjoyed your delicious locally grown corn, it's time to consider the alternative. Widely available, Aaron Woolf's thought-provoking documentary, King Corn, shows us how conventional agri-business corn is grown, seed to sale, through the insane story of one acre of corn, which is the nation's most-grown and most-subsidized grain. Unforgettable.
From the reading list
Harvest for Hope – In this book, Jane Goodall demonstrates a variety of ethical issues related to the sustainability of natural resources, the well-being of animals and our own health and encourages us to consider the significance of our daily food choices.