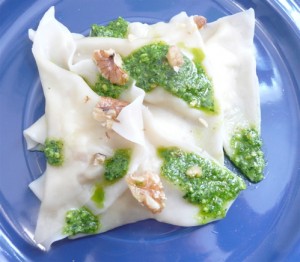 Making fun food with what's around. Wontons in the freezer, last of cherry tomatoes from Taft farms…..
Potato-Celery Root Ravioli with Parsley Pesto
Recipe Link.  Light tasting and a great use for fall foods.
Butternut Squash Pie with Ginger Snap Crust
Link to recipe. One of my favorites this time of year. Forget the soggy pumpkin pie crust. Rather, use easy-to-handle butternut and a crisp ginger snap crust.
Local Food Improvisation
Asian Cherry Tomato Relish (with yummy sauce)
This was a knock out. Amounts are VERY approximate, but I think it's hard to lose. Should work well atop fish, meat, chicken. Worth a try on with Chinese or buckwheat noodles. but just plunk on top, don't mix in. I had it with sauteed chicken breasts. Procedure: Cook sliced whites of 4 scallions, 3 T fermented back beans (rinsed), 3 T chopped picked ginger in 1 T oil. Add 3 chopped garlic cloves, 3 tablespoons mirin and 1 tablespoon rice w. vinegar. Simmer a minute. Add 2 qts cherry tomatoes, halved, and greens of 1 scallion, slivered, thinly. Simmer, just until the tomatoes start to get a little soft. Season relish with hot sauce and salt, if needed. Take off heat. Drain off liquid: That's the relish. Boil liquid until thick: That's the sauce. Top food with relish. Drizzle with reduced sauce.