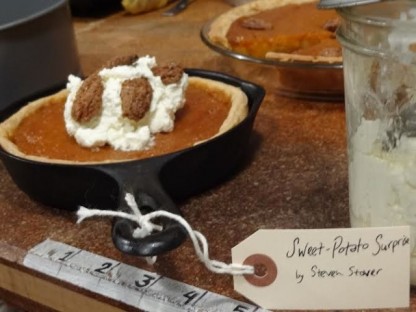 My lifelong passion for pie, start up stores with fun food themes, and my local library miraculously converged in one recipe last month.
Like so much tasty food invented by great home cooks, this pie is really an amalgam of recipes, re-imagined with gusto by local librarian Steve Stover.  It's a buttery crust, topped layer of coconut frosting, then filled with local sweet potato ambrosia and sprinkled with candied pecans. (Add a dollop of fresh whipped cream, if you like.)
Wow.
Last month it was the hands-down winner of the pie contest that I judged along with a bevy of bakers from the new Easthampton Small Oven Bakery. It all took place at the Haberdashery, a fun store with cool classes that you should check out here.
Read Steve's recipe story below in italics. I'd love to hear about your culinary inventions.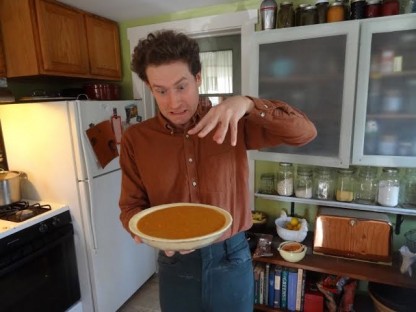 Sweet Potato Surprise Pie (and a half)
(This recipe is easier than it looks!)

Preheat oven to 250 degrees
Step #1— Make the buttery pie crust (adapted from epicurious.com)
2 1/2 cups all-purpose flour
3/4 tsp salt
1 cup chilled salted butter
5 Tbsp ice-water
-Mix flour and salt
-Cube the butter, and with cool hands, mix it into the flour mix until bead-sized pellets form
-add ice-water and hand-mix until dough forms
-flatten dough and cover in plastic wrap
-don't overwork
-refrigerate for at least an hour
Step #2 — Make the candied pecans, frosting and filling while the dough is "resting".
Candied Pecans for topping (adapted from allrecipes):
1lb pecan halves
1/2 cup brown sugar
1/2 cup sugar
1 tsp cinnamon
1 tsp turmeric
1 tsp salt
1 egg white
-Mix Sugar and spices in a bowl
-In a separate bowl mix egg white and water until frothy
-Add and pecans into egg mixture
-Stir spice mixture into the pecans until evenly covered
-Spread coated pecans onto a baking sheet
-Place into preheated oven, stirring pecans every 15 minutes until pecans are brown (about an hour)
-You only need a few for the recipe, and so you will have extra to barter favor with holiday guests. It is in your best interest not to nibble at these while you are baking. You must trust me.
-After the pecans are candied, remove from the oven and up the temp to 350 to pre-heat
Coconut Cake Frosting [(adapted from Betty Crocker's German Chocolate Cake Frosting)
1 cup evaporated milk
1/2 cup brown sugar
1/2 cup sugar
3 local egg yolks
1/2 cup butter
1 tsp vanilla
1 cup chopped pecans
1 1/3 cup shredded coconut
-In a saucepan, mix the evaporated milk, brown sugar, sugar, egg yolks, butter, and vanilla
-Place over medium/low heat, stirring continuously until it becomes caramel-thick
-add pecans and coconut and stir well
-let cool for 20 minutes
Sweet Potato Pie filling (adapted from allrecipes):
1 lb. local sweet potato
1/2 cup local salted butter
3/4 cup sugar
1/2 cup apple cider
1/2 cup local milk
1 tsp nutmeg
1 tsp turmeric
1/2 tsp cinnamon
1 tsp vanilla
2 eggs
-Peal and boil sweet potato until soft
-Mash in a saucepan with butter and apple cider over medium heat until smooth
-Lower heat and add other ingredients except eggs
-Turn off heat allow to cool and then add eggs, mixing until well combined
Step #3 — Assemble and bake
-When everything is prepared, roll out the pie crust.
-Fit into a pie pan or a cast-iron skillet, trimming it around the edge.
-Spread a thin (1/8″) layer of the cake frosting over the bottom of the crust
-Pour in the sweet potato filling until nearly level with the edge of the pan
-Place the pie in the preheated oven
-The pie is done when the edges are brown, the center is firm, and a knife or toothpick inserted into the center comes out clean (and provided your oven retains heat, it shouldn't take 3 hours)
-Let the pie cool and refrigerate to set, adding few candied pecans: voila!
–And of course, if you like, add freshly whipped cream
Note: The 5″ cast-iron skillet which was used to make a pie from the remaining ingredients was Briana's mercurial cunning, and I really have her to thank for the ribbon awarded me.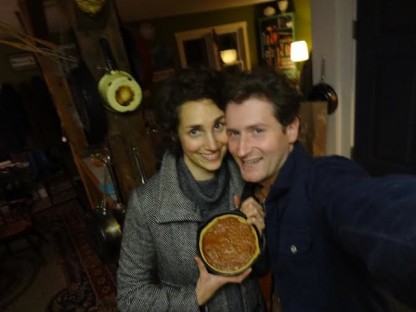 From Steve —
I will try to recount my adventure into the local competitive pie circuit. First, it must be said that the main impetus behind my participating was to support The Haberdashery. Figge and Melody are great friends and an inspiration in all things 'do-it-yourself-&-get-it-done'.
I had been at table with friends, Melody among them, and the question arose: "If you were to participate in a pie-baking competition, what kind of pie would you bake?" I feel it would undermine the bonds of trust to disclose the existential turns taken in that conversation. Suffice it to say, later that night, when the table had been cleared and my friends had all gone home, inspiration came to me. It was in the form of a sweet potato.
I had purchased a couple sweet potatoes from Old Friends Farm at their stand in Northampton's Tuesday Farmer's Market some weeks prior. Phillip and Missy had recently given life to a second child who was strapped to one of their torsos and sleeping. I must have congratulated them and purchased young ginger and turmeric roots. As always, I lost myself in the market bustle and ended up at home with odd groceries that demanded a great deal of ingenuity to manufacture into a meal. For example, a celeriac root, a jar o' raw honey, black trumpet mushrooms and several apples.
Those sweet potatoes were begging to be used and I could no longer ignore their imploring. Knowing the rage of the day, I insisted that caramel should be incorporated, but I knew not how. I thought of caramel ribbons throughout the pie's filling, a thin layer atop, or a hidden layer like the ultra-rich chocolate-ganache torts that they used to make at the Hungry Ghost before their pastry-cooler broke down. As I say this, the back of my hand meets my forehead and I feel melodramatically faint. Have you ever eaten one of their eclairs?
At this point, I must confess that I have many sweet teeth and a perennial favorite birthday cake of mine is the German Chocolate Cake. The frosting is one of intermingling caramel, pecans, and coconut. My birthday having recently passed, this cake was fresh on my mind, and the convergence of ingredients was as natural as peanut-butter and chocolate, or bananas and chocolate, or caramel and chocolate. I would put a thin layer of combined caramel, pecans, and shredded coconut beneath the sweet potato pie filling.
After an idea, Amy, comes its execution, and so here are the ingredients with the recipe that I put together!