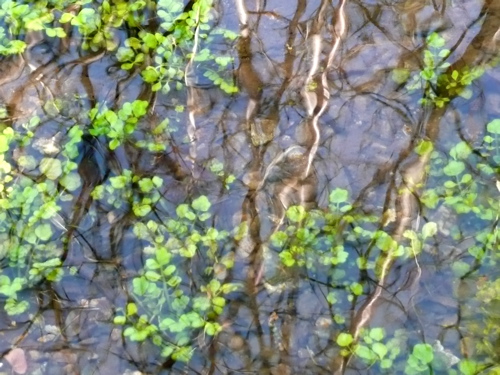 Wild Watercress
Here's 3 for April….
Spring Toss:
Vibrant green watercress is back in the rapidly running icy cold stream behind my house.
Ramp it Up
Today I saw wild leeks, called ramps, in the woods around the corner. (Please don't over harvest, as we have to leave some for the next generation!) Stay vigilant, as they'll be up soon and ready to blend into a fabulous pesto.
Fresh Chive Noodles with Early Spring Things
The chives are up too and superb in homemade noodles made with with freshly laid eggs.
Not forgotten
I know I've been gone awhile, but I haven't forgotten you. It's just that I'm knee deep in two exciting projects, both of which are in keeping with The Locavore Way. One involves developing farm fresh recipes in a school kitchen for a state-wide cookbook. (Last time it was Massachusetts; now it's Missouri.)
You'll hear more about both projects on this blog, although postings are likely to be more infrequent for at least several months. But I promise to keep you abreast and deliver delicious local recipes and news tidbits when I can….