What's Below
What is a CSA?
How to find one near you
New(ish) Berkshire CSA
A little background
The Recipe: Delicious Running-on-Empty Tuscan White Bean Soup
Seed time!
(Picture from Berkshire Food Journal)
In March and April, as local food runs low, I face the bleak facts and have to eat more food from far afield.  Traditionally, this is the starving season, when cold storage foods run low and the pantry is wanting.
North country locavores like me are happy to have a few root vegetables around, boosted by tasty cheeses, yogurt, milk eggs, meat, freshly made maple syrup and the last of August's jam. Real fresh food is a distant memory, sadly imitated by the hollow taste of produce from distant climes.
But cheer up, there is so much to dream about — garden planning, seed shopping and, yes, joining a local CSA.
It's CSA time!
For the ultimate locavore experience, join a CSA, which is a Community Agriculture Farm. It's the most direct way to connect with a regional farmer, nature and the flow of fresh, sustainably raised food right through the season.
What's A CSA?
"CSA" stands for community supported agriculture. Although it denotes a kind of farming, the term has also come to mean the farm itself. CSA members, sometimes called shareholders, agree to support an environmentally responsible farm and farmer by paying upfront costs before the growing season.
Join a CSA and get a grocery bag or so of sustainably raised farm fresh food on a regular basis, usually once a week. Many CSAs also include a pick your own option on high labor crops, such as berries or cherry tomatoes. Pick-up days are especially satisfying if you can visit the farm, but even city slickers look forward to their weekly bag of startlingly fresh produce, and many visit the farm at least once a season. My book, The Locavore Way, has lots of information on CSAS — from how to decide if CSA membership is right for you to how to cook with CSA goodies.
How do you find a CSA near you?
Search for a CSA near you at the Robyn Van En Center. Or, if you live in NYC, use Just Food. In the Berkshires, where I live in Western Massachusetts, use Berkshire Grown. A new Berkshire CSA in Stockbridge is accepting 30 first-year members. Contact Katherine Vause at Solid Rock Farm.  (413) 298-4500.
Background
I was already a chef who understood fresh when Robyn Van En, who co-founded the CSA movement in North America initiated me into the local food movement. Robyn's Indian Line Farm was one of the first two CSAs in this country. She spread the word through talks and a $4 pamphlet that taught farmers around the county how to start CSAs on their own.
Robyn has since died, her farm Indian Line Farm is still going strong. The CSA center at Wilson College which bears her name, estimates there are close to 2000 CSAs in North America. Here's a good article about the CSAs and their history if you want more.
The Recipe
Running on Empty Soup:
Tuscan White Bean Soup with Wheatberries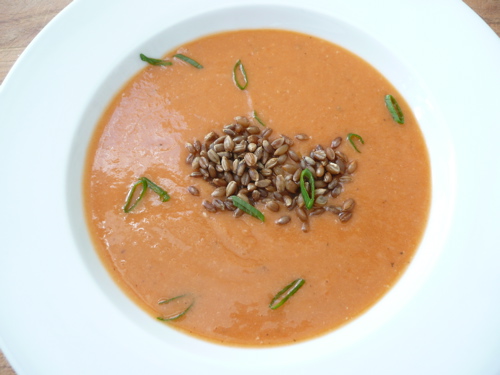 Nothing in the house? I made this delicious soup out of what seemed like nothing, adding two locavore ingredients — dried sprigs of rosemary from last year's garden and wheatberries from last year's grain CSA share.  Serves about 6.
1 pound the biggest white beans you can find (cannelini or butter beans)
2 sprigs of dried rosemary
1 large or 1-1/2 small garlic bulbs
1/2 cup wheatberries
1 small can tomato paste
2 tablespoons to 1/4 cup red wine vinegar
cayenne or quality hot sauce to taste
salt to taste
2 tablespoons whatever green is in the house, chopped (optional)
1- Soak the beans overnight. Drain. Cover beans by about 2 inches of water. Add the rosemary and bring to a boil, then lower to a simmer. Skim off any foam that floats to the top. While the beans are cooking, separate the garlic cloves. Peel and throw them into the pot. (Peeling can be done two ways: Smash them with the heel of your hand onto a flat side of a thick knife. Peel. Or you can cut off the end of the bulb and plunge them into boiling water for about 20 seconds then rinse under cold water. Peel.)
2-While the beans are cooking, bring 2 quarts of lightly salted water to a boil and add the wheat berries. Boil until they are soft enough to eat, about 45 minutes. (They will still be a little firm but not raw.) Drain when done.
3-When the beans are almost soft, about 45 minutes or so,  spoon in the tomato paste and continue to simmer until they are very soft, about 1 hour or more, adding water if necessary just to cover. Puree the soup thoroughly in a food processor until very smooth. Return to the pot. Season with the vinegar, a touch of cayenne pepper or hot sauce and a generous amount of salt to taste.
4-Equally divide the soup among the bowls with the wheatberries in the center. (Let diners stir the wheatberries in.) Sprinkle with the greens if you are using them.