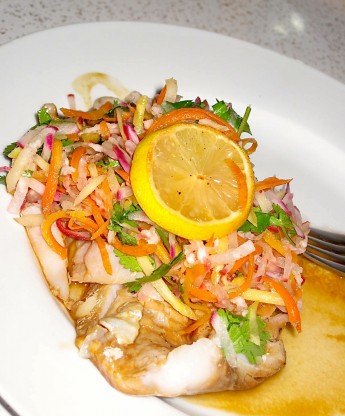 Edible Highlights
A last minute dinner that worked….
Lightening quick "pickled" vegetables to go on fish, chicken, meat or whatever charms you. This makes enough to generously top 2 portions if it's the veggie of the meal, or to nicely garnish 4  portions.
About 3/4 pound local carrots and radishes
1/4 cup rice wine vinegar*
1 tablespoon sugar
1 tablespoon maple syrup
1/2 teaspoon Sriracha or more to taste
Generous salt to taste (Up to 1 teaspoon)
1/4 cup very coarsely chopped cilantro
Bring a pot of water to a boil. Clean the veggies and chop off their ends. Grate in a food processor. Plunge into boiling water. Immediately drain and toss with the ingredients.
*Next time I might replace some of this with lime juice.
Back to the womb old fashioned New England dinner with a slight twist
Baked Haddock with spiced bread crumbs; steamed local butternut with butter, freshly ground coriander, and cayenne; Massachusetts cranberry-orange relish; emerald green wokked kale with garlic, scallions, ginger and a splash of tamari. The right colors for the season and snap to pull together….
Gingered Sweets
I found local organic sweet potatoes at my food coop. They were fabulous roasted until soft, split and doused with butter that had been simmered with freshly grated ginger, a touch of cayenne and salt. A yin-yang, hot and sweet delight.
Tasty things to do with pumpkin seeds here.
Locavore News
Good Food Book Pick: Eat Drink Vote
Scan down to this creepy chart at this link:
Attorney General Forces Junk Food Lobby to Obey Washington State Law and Disclose Donors to No on 522