No excuses! Burgeoning Winter and Holiday Farmers Markets make it convenient for you to include fabulous farm fresh foods in your winter feasts, starting with Thanksgiving. See below: To find a market near you and for this weekend's Berkshire Holiday Markets.

Lots of Locavore Thankgiving Recipes
Legislative Action alert:Save small farm production now!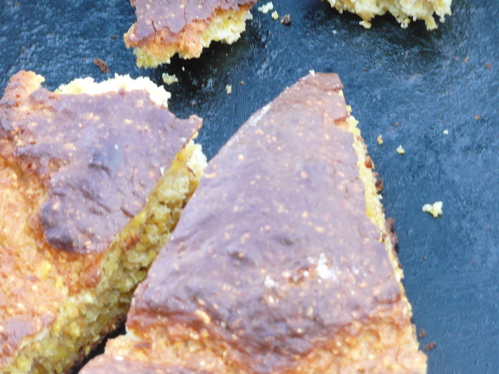 I'm a sucker for warm cornbread with a butter crisp crust. Ingredients? The aromatic cornmeal was brought home in a brown sack as hard Flint corn kernels from Heritage Valley Grain CSA, then ground by Richard Bourdon at Berkshire Mountain bakery. The eggs came from my neighbor, Sean Stanton, at North Plain Farm, and the milk's from High Lawn Farm's Jersey cows, with their long upswept lashes.
Accompaniments: Serve with smoky black beans, again from the CSA, and defrosted tomatillo salsa from my own crop.
Wet
6 tablespoons unsalted butter
1-1/3 cups milk
1 cup plain yogurt
4 eggs
Dry
2 cups all-purpose flour
2 cups coarse cornmeal
1/3 cup sugar
1-1/2 tablespoons baking powder
3/4 teaspoon baking soda
1 slightly rounded teaspoon kosher salt
1.Preheat the oven to 425 degrees. Melt the butter in a 10,11 or 12 inch cast iron skillet. Tilt the pan so that the butter comes at least halfway up the sides all around. Let it cool.
2. Combine the wet ingredients in one bowl, whisking them together thoroughly. Mix the dry ingredients in another bowl and whisk to combine. Stir most of the cooled butter into the wet mixture, then immediately mix the wet mixture into the dry. Stir just until combined.
3-Heat the pan with the remaining butter in it until very hot. Pour the batter into the pan, scraping it out with the spatula if needed. Keep the heat on high for 2-3 minutes to sear the bottom of the pan. Place the pan in the back of the oven and cook until very dark but not black, about 30 minutes. Serve hot.
A note on sourcing local ingredients

Sure, each bite of this cornbread conjured good memories of sourcing its ingredients. That feels good, but not good enough get sanctimonious about it. Striving too much do it can stop anyone flat, so: Just do your best. Local diary products are widely available and regional cornmeal can sometimes be found with a little foraging  Even I gave up on the butter.
Holiday Farmers Markets
Find a farmers market near you that may be hosting a winter or holiday market.
Here in the Berkshires there's a holiday market this Saturday in Great Barrington at the Searles School Gymnasium on Bridge Street from 9 am – 1pm and in Williamstown at the Williams College Field House on Latham Street from 10 am – 2 pm. Many components of Thanksgiving holiday meal will be offered.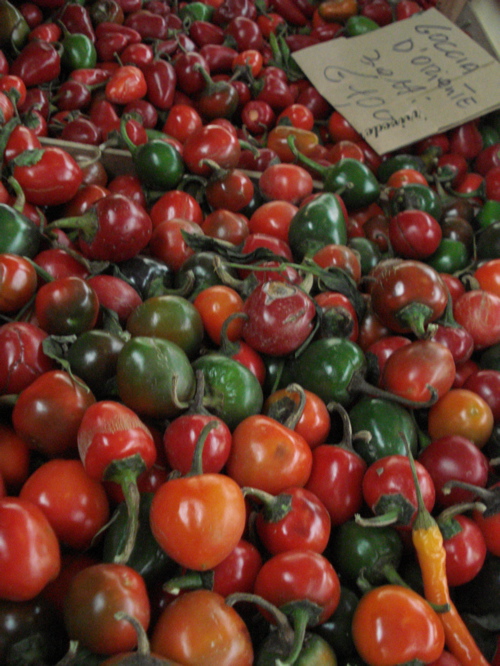 Peppers at the market in Turin, Italy.
I slipped away from Slow Food's wonderful Terra Madre to get a taste of the region. Food markets are my favorite way to visit a new place. Each market tells its story through its food, customers, vendors and atmosphere.  More later….