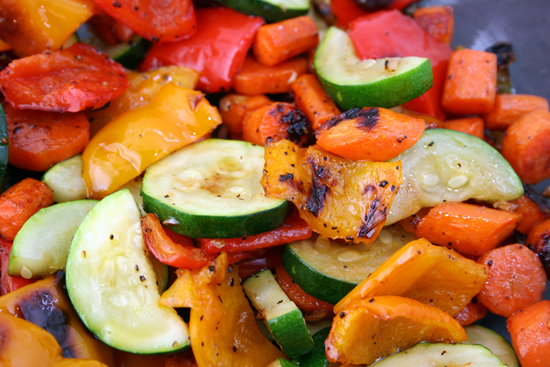 Harvest vegetables and tangy goat cheese roll into a glorious last-of-summer wrap.  Feel free to play with other seasonal vegetables and local cheeses, as long as you leave in something in the onion family, such as leeks, scallions, shallots. Later in the fall, try diced butternut squash and leeks. In the spring, roast asparagus until tender then sprinkle with garden chives.
After creating 100 tasty recipes for my book, Wrap it Up, this is one of the most enduring. (The book is out of print, but very cheap used.) Makes 3-4 wraps
2 red bell peppers, cored, seeded and sliced into rings
l medium eggplant, sliced into 1/2-inch rounds
1 small zucchini, sliced
2 red onions, sliced into thick rings
3 tablespoons olive oil
5 sprigs fresh thyme, or 1/8 teaspoon dried thyme leaves
l teaspoon balsamic vinegar
l garlic clove, minced
l/2 teaspoon salt
l/2 teaspoon freshly ground pepper
4 mountain bread rounds or 3 large tortillas
l/2-2/3 cup fresh goat cheese, at room temperature (about 3-1/4 ounces)
l. Preheat the oven to 450°F. Toss the pepper, eggplant, zucchini, onions, oil, thyme, balsamic vinegar, garlic,  salt and pepper in a large bowl. Spread in one layer onto a baking sheet (or 2) and roast, stirring twice to prevent sticking, until the eggplant is soft and the onion is nicely browned, about 25-35 minutes. Remove and set aside, until the vegetables are cool enough to handle.
2. To assemble: Heat the mountain bread rounds, one at a time, in a large cast iron skillet or directly over a gas flame, turning frequently, for 15-20 seconds each, or, all at once, in the microwave for about 30-45 seconds, until warm and pliable. Spread l round of mountain bread with 2 tablespoons goat cheese. Top with l/4 of the vegetables and roll. Complete wraps with the remaining ingredients. Or if you prefer, prepare all at once, assembly-line style.
Make Ahead/ Take-Away: This can be prepared the day before it is eaten. It is best at room temperature or warm—reheated briefly just  until warm—but is also good right out of the refrigerator.
What's Happening in Cleveland?
Last year I flew to Cleveland for a talk at the lovely Botanical Gardens, where their Ripe Festival,  highlighted fresh local fresh foods to raise money for an extraordinary program, Greencrops.
As you may know, Cleveland has been especially hard hit by foreclosures and has more than it's share of empty lots. Greencorps enlists high school students from these blighted neighborhoods, which are often food deserts with no convenient access to fresh produce. The students work six reclaimed city "learning farms" that range .2 acres to 1.5 acres.These farms produce their own branded salsa and grow vegetables to sell at local markets as well places like The Cleveland Clinic.
Greencorps connects the next generation to real food, by getting their hands in the dirt to learn meaningful work and gardening that sustains themselves and their neighborhoods.
Local Food Cleveland also acts as a network of urban farmers, gardeners, chefs and eaters to direct and connect  them. Kudos to Cleveland and especially Jennifer McDowell, Public Programs Coordinator at The Cleveland Botanical Gardens, her mid-west warmth and gift for public education.