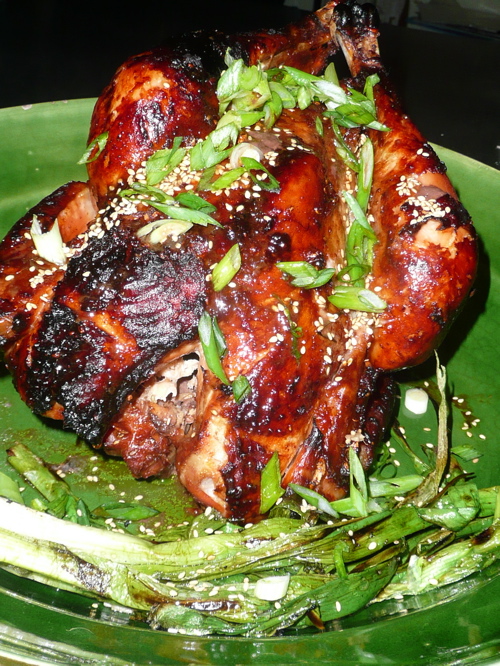 You're going to love this juicy bird, because it'll perfume your kitchen with ginger and anise and arrive well-browned with hoisin glaze.
My old neighbor, Ruth, raised meat chickens and I'm the beneficiary. Hers were fed on whatever they could find around the yard during the warm months, along with grain raised up county, so they're local all the way.  Even if you like convenient rotisserie chicken, and I do, the clean flavor of local chicken leaves it in the dust and is worth the extra expense. And you can eat them with a clear conscience. (For more about chickens and a touch of local food news see below.) Serves 4 or 5
4 pound chicken
l/3 cup hoisin sauce
l/4 cup soy sauce
2 tablespoons flavorless oil
2 tablespoons coarsely grated ginger
l/2 teaspoon anise seeds
1 garlic bulb, cut in half
sesame seeds, optional
1 large bunch scallions, optional
l. Wash and dry the chicken. In a bowl large enough to hold the chicken, combine the soy sauce, hoisin, oil, ginger and anise seeds.
2. Spoon about 2 tablespoons of the mixture inside the chicken cavity. Truss with a string, or at least tie the legs together. Add the chicken to the bowl and turn it a few times to coat. Marinate 3 hours to overnight.
3. Preheat oven to 450°F. Stuff the garlic inside the chicken. Place it on a rack in a roasting pan filled with about 1⁄2 inch of water. Reserve the marinade for basting.
4. Roast for 15 minutes. Baste with the reserved marinade, then turn on one side. Reduce heat to 350 degrees, and roast for another 15 minutes. Baste again, and turn on other side. (You can stick a wooden spoon inside the cavity to turn it.) Roast for another 15 minutes. Cover the top with foil if skin starts to get too dark. Turn upright, baste again, and continue cooking for another 45 minutes, until the juices run clear when the thigh is pricked with a knife or the thigh is 175-180 degrees. Note that when you baste, don't leave the door open too long, as it lowers the temperature radically. So baste and turn it quickly, or take the bird out of the oven and close the door, then baste and turn it before returning it.
5. Present whole, if you wish, then serve Carve or cut with poultry shears.  Sprinkle with sesame seeds and garnish with grilled scallions, if you are using them. (To grill the optional scallions first remove their root endS. Toss the whole scallions with a touch of oil and salt. Grill using grill pan, outdoor grill or broil, turning once until soft, a bit browned and very wilted.)
Where to find it Regionally raised chickens that are not battery bred, but raised on small sustainable farms, can be hard to come by, but keep trying. Try co-ops, farms and stands, extension agents, winter farmers market and ask around.  Local farm advocacy groups often post farm sources on-line. In the Berkshires, try Berkshire Grown. Local chickens are generally frozen this time of year. Don't be put off, a local frozen chicken is still extraordinary.
The Price of Local Chicken We are used to cheap chickens that are raised in ways too grotesque to review in a recipe blog. But farming fresh chickens in a humane manner on wholesome food on a small unsubsidized farm is not cheap. Ruth bought her chickens from a hatchery in Pennsylvania through the US Postal Service, as there were no local sources. Twenty five chicks cost her only $65, but feeding them well is expensive, even on local grain that is not organic, because meat birds eat about 2 pounds of feed each week. and it takes about 10 weeks to raise a 4 pound bird. Chick to table, my 4 pound bird cost Ruth $14.00, which is exactly what she sold it for. My advice? If you want to eat clean meat, eat less of it!
What Kind of Bird? Ruth is new at raising chickens. She has a full time job and does it because she's committed to eating local food, but also because she has an affinity for birds, something I'll never understand. "They allow me to enter a completely different world and participate in it, a mix of wildness and domestication," she told me while her parrot Boodle sat on her shoulder.
For a meat bird, Ruth wanted to raise The Delaware, a breed developed before factory birds. But they were sold out, so she went for the Kosher King,which are gray and white with bright yellow feet. They're not the classic Tyson "cornish" hybrid, which apparently don't care about moving around. But, these meat birds eat mostly grains and rejected other food like apples, which Ruth's egg birds devour. Next year she'll try The Delaware, who are more likely to enjoy food, grass and grubs, which will add to their flavor, Ruth says.
Hannaford Supermarket Helps Promote Local Dairy Farmers
State Agriculture officials joins farmers and Hannaford supermarkets to launch program to plromote local dairy farms. The program will help New England dairy producers brand their goods with a "Keep Local Farms" logo as a way to notify consumers that the product is locally produced.