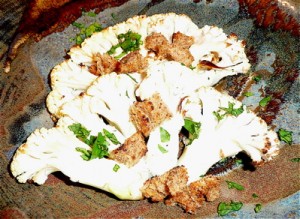 Even my husband, a cauliflower hater, loved this recipe — Cauliflower cut into steak-like slabs, roasted until slightly browned to bring out its nutty flavor, then topped spiced bread crumbs. Dense heads of the freshest local cauliflower are plentiful now at farmers markets, farm stands, co-ops, CSAs and even some supermarkets (ask). The recipe can easily be adapted to a larger head of cauliflower or multiplied up for a party.
Serves 3-4 side dishes
Variation: Croutons instead of crumbs, as in the picture above. Cook small dices of bread.
1 small head of cauliflower, about 1-1/4 pounds
2 tablespoons olive oil
1 teaspoon ground cumin
1/2 teaspoon ground coriander
1 very generous pinch of cayenne pepper, or to taste
about 1 teaspoon kosher salt, or to taste
1 slice of whole wheat bread, torn in half
1 tablespoon chopped cilantro, optional
1-Preheat the oven to 400 degrees.
2-Core the cauliflower, removing less rather than more, so it doesn't fall apart. Slice it into 3/4-1 inch slabs. (If you'd rather do florets, they work well too.)
3-Lay the slabs on a baking sheet. Brush both sides lightly with olive oil, using about 1 tablespoon total. Sprinkle with 1/2 teaspoon of salt. Roast until slightly browned and soft but not mushy, about 25 minutes or so. (It will look browner than the picture.)
4-About 5 minutes before the cauliflower is ready, prepare the bread crumbs. Combine the cumin, coriander, cayenne and up to 1/2 teaspoon salt to taste in a small bowl. Set aside. Pulse the bread in the food processor into coarse bread crumbs. (See picture in pan.) Heat the remaining tablespoon of oil in a small heavy skillet over medium to medium-high heat. Add the crumbs,and stir constantly until crisp, about 3 minutes. Sprinkle with the combined spices and stir briefly, just to toast them. Remove to bowl to prevent burning. (If you've burned any of the smaller crumbs, leave them behind!)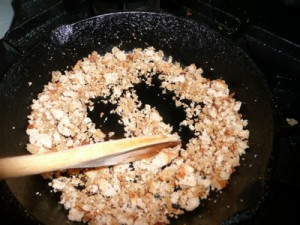 5-Shingle the roasted cauliflower slices on a warm serving plate, overlapping them slightly. Sprinkle with the spiced bread crumbs, and then the cilantro, if you are using it. Serve immediately.