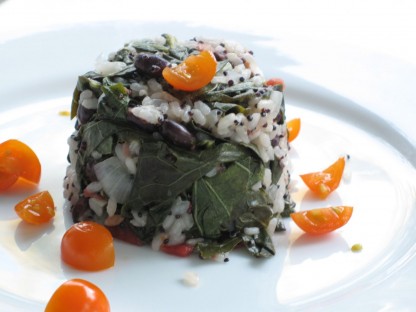 Rustic, country-style, comforting. In this simple dish, white rice serves as neutral companion to robust fall greens. Use any braising greens, such as collards, mustard, kale or a mixture. Turn it into a one-pot entree by stirring in a can of drained and well-rinsed pinto beans or black-eyed peas. Makes 4 large or 6 small servings
1 small bunch of your favorite cooking greens, such as collards
1-1/2 tablespoons butter, oil or bacon fat
2 large leeks (white and tender green), well rinsed, trimmed, and chopped
2 garlic cloves, peeled and sliced
1 1/2 cups white rice, not converted or minute rice
2-1/2 cups chicken or vegetable both, canned or homemade
1/2 cup mild or medium hot salsa, homemade or bottled
Vinegar and/or hot sauce, optional
l. Unless they are small, prepare the greens by removing the leaves from their thick spines. (One way is to bend at the spine, then rip it out and discard.) Lay the leaves on top of each other in batches, roll, then slice. (Or just chop them, if you prefer.) Set aside.
2. In a large sauce pan, over medium heat, melt the butter, oil or bacon fat. Add the leeks and garlic. Cook, stirring frequently, until the leeks start to brown, about 7 minutes.
3. Add the collard greens, turn with tongs until wilted, about 3 minutes. Add rice, and stir to coat, then the broth and salsa. (If you are using homemade stock, salt to taste.)
4. Bring to a boil, and then reduce heat to a low simmer. Cover with parchment or waxed paper to seal well, and then cover with a pot top. Cook over a low heat, stirring once, then recovering the pot until the rice is cooked and most of the liquid is absorbed, about 20 minutes.
5. Serve with optional vinegar and hot sauce on the side.