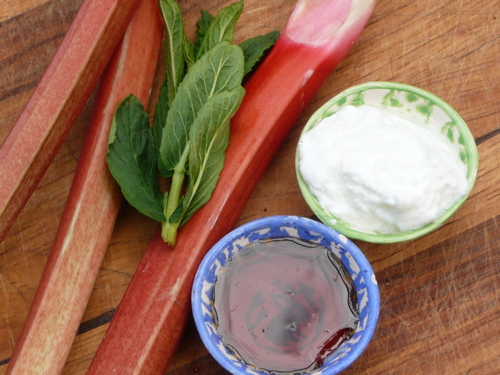 Three local ingredients — rhubarb, yogurt and mint — one simple spring lunch.
The longer I cook with fresh local ingredients the less I want to fuss with them. Why mess with a good thing?  But you can certainly play with other seasonings, such as lemon or orange zest, a pinch of allspice or freshly ground pepper. Or become a locavore extraordinaire and sweeten with a local honey or maple syrup,  although I prefer the neutral taste of sugar, which lets the rhubarb shine. And, if you like a brighter color, throw in a  few left over cranberries from your freezer.
Thanks to the folks at the library in North Brookfield, Massachusetts, who gave me this garden rhubarb after my talk there, which was part of their series celebrating local food, farms and gardens. It was the perfect gift for a locavore impatiently waiting this season's bounty.
For one portion (Just multiply up for more)
1 cup yogurt
4-6 mint leaves
2 medium stalks rhubarb (or 1/4 pound), sliced
Sugar, maple syrup or honey to taste
Optional: vanilla extract, lemon or orange zest or whatever charms you
1-If you like your yogurt thick, you can drip it through a coffee filter for an hour. If not, skip this step. Combine the yogurt and chopped mint a small bowl, reserving one leaf. Roll and slice the leaf. Reserve for garnish. Taste the yogurt. If you like, add more mint, and little sugar, maple syrup or honey to taste. (1/8 teaspoon of vanilla is optional)
2-Combine the rhubarb with 1 tablespoon sugar, maple syrup or honey and 1 tablespoon water in a sauce pan. Cook over medium heat, stirring occasionally, until the rhubarb is soft but still has a little texture to it.
3-Layer the minted yogurt and rhubarb in a wine class, leaving a little rhubarb and the mint garnish for the top. Enjoy.
Rhubarb Fool. Prepare the rhubarb as above. Gently fold it into a cup of whipped local cream that is slightly sweetened. Garnish with a sprig of mint.
Locavore Way Happenings
New Cooking Classes
Check out my new seasonal Locavore Cooking Class Series this summer in my kitchen in West Stockbridge, as well as on-the-farm at the Hawthorne Valley Farm in Ghent. For details
Slow Food Boston on May 12th
Join me for a talk and signing in Cambridge at 6:00 next Wednesday at the First Parish Unitarian Church in Harvard Square.