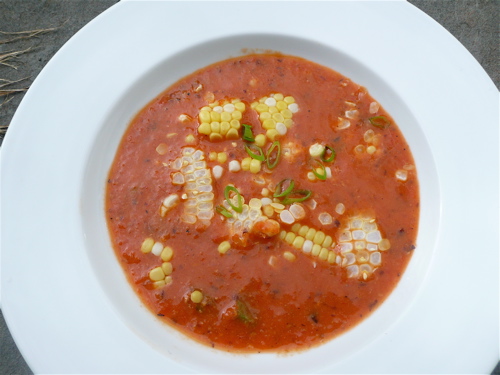 Soup with corn garnish variation. Picture of simplest version below.

This intense soup combines the local harvest and eastern seasonings with a touch of butter to round them them all out. It's terrific eaten immediately with crusty bread — I couldn't help myself — but even better the next day. Triple the recipe to thaw when the ground is rock hard and the world is white. Serves 4
Recipe Variations below, including a cold version, which is excellent Indian summer fare. and the one pictured here, with corn shaved right off the cob into the soup. (You'll love how the kernels break apart in your mouth.)

2 red bell peppers
1 cup peeled and chopped ripe tomatoes (1 huge, 2 medium)
1-1/2 tablespoons unsweetened butter
1 small diced onion
1/4 of a seeded and minced jalapeño
1-1/2 teaspoons coarsely grated fresh ginger
2 garlic cloves, minced
2  tablespoons fermented black beans, unwashed*
2 cups chicken broth
1 tablespoon sugar
Chopped cilantro or sliced scallion greens
Variations:
Shave kernels from 2 ears of cooked corn right into the bowls of soup.
Add 2-3 tablespoons of cooked orzo to the center of the each bowl of soup.
Serve the soup cold, replacing a flavorless oil for the butter in the recipe.
Top soup with crisp croutons.
1-Roast the peppers on the stove top, grill or broiler. Cook them whole, over high heat, turning them as needed until they are completely blacked, 3-7 minutes. Transfer to a small bowl and let stand, well covered, until cool enough to handle. Remove tops, peel and seeds. Chop and reserve.
2-Drop the tomatoes into a pot of boiling water for about 5-10 seconds. Remove with a slotted spoon. When cool enough to handle, slip off the skin(s). Slice in half and discard seeds. Chop. You should us 1 packed up of chopped tomato with juice.
3- Heat butter in a medium pot over low heat. Add the onion, jalapeño, ginger, garlic and cook, stirring occasionally until the garlic is aromatic but not browned, 2-3 minutes.
4-Add the fermented black beans, peppers, tomatoes and 1 cup of the chicken broth. Simmer for 10 minutes and then puree in the food processor or with an immersion blender. Add the remaining 1 cup stock and simmer for an addition 10 minutes to marry the flavors. Add the sugar and taste. If you used homemade chicken broth you may need salt.
5-Serve warm, sprinkled with cilantro or scallion greens, or use one of the variations listed under the ingredients.
*Ingredient tip: Distinctive fermented black beans are the surprise flavor here. (Local ingredients, foreign seasonings) Find them in the Asian section of a good gourmet food store or in any Chinatown. (I found them in Guido's Fresh Marketplace in Great Barrington near me.) They're a great staple that keep forever in the fridge. If you buy them I promise to use them again.
Join me

this

Sunday…
at The Open Door Book Store for a talk, reading and book signing in Schenectady, from 11:00 to 12:30. While you're there, right next door, the local greenmarket will be in full swing, so be sure to check it out!
Call your Senators today to Tell them to support the Tester Amendment
The saga goes on. From the National Sustainable Agriculture Coalition: The Food Safety Modernization Act (S. 510) could reach the Senate floor as early as tomorrow.  NSAC has been able to win several improvements to the bill but more changes are needed to avoid serious harm to family farm value-added processing and the emergence of local and regional food systems.
S.510 would considerably ramp up FDA regulation on farms that even minimally process their crops and sell them to restaurants, food coops, groceries, schools and wholesalers.  An amendment sponsored by Senator Jon Tester (D-MT) would exempt small farm and small food processing facilities as well as small and mid-sized farmers who primarily direct market their products to consumers, stores or restaurants within their region.
Please call your Senators today and ask them to support the Tester Amendment. For their numbers, go to Congress.org and type in your zip code. Click on your Senator's name, and then on the contact tab for their phone number.  You can also call the Capitol Switchboard and ask to be directly connected to your Senator's office: 202-224-3121.  Once connected ask to speak to the legislative staff person responsible for agriculture.  If they are unavailable leave a voice mail message.  Be sure to include your name and phone number.
Legislative update
Find out what's happening in your state to connect farm to table through the American Farm Land Trust's website. Here's what's going on in Massachusetts, where I live.