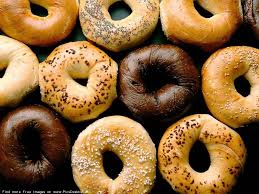 Alert: Buried the lead at the bottom…..
I — and you too? — keep falling in love with food that gets "discovered," then mangled.
Think Sushi, which I savored with my dad in the early 60's, each piece lovingly prepared to order at the sushi bar by Ya Chan, who hand-picked crab right out of its shell. Grumpy me can't stand those yuppie rolls with the theme "too much is not enough," that include spicy mayo and zero fresh fish, just the farm raised salmon that's fatty and flavorless. Why isn't just-leapt-out-of-the-water enough? (The all mighty buck, I know.)
But this isn't just about pricey food made cheap.
For the last several decades the food-o-my-people, bagels, are everywhere, pumped up and doughy. They've become dinner rolls pressed into bagel shapes, rather than crisp and chewy miracles.
Croissants? Don't get me started. When McDonald's serves 'em you know it's all over.
OK, I get it, America is about co-optation of everything, so I need to relax and go with the flow. But I get worried when we move on to produce. Broccoli? See the article below. Kale? How did kale get fashionable? I should be pleased! Can't wait to see how they mess it up……
Article link: Creating the New Broccoli Craze