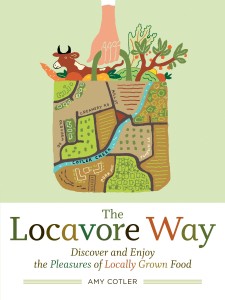 The Bookloft of Great Barrington, cordially invites you….
Eat locally…Mother Nature would approve!
Local author and culinary guru Amy Cotler will be at The Bookloft, Saturday, January 23rd at 2 PM, speaking and signing copies of her latest book, The Locavore Way: Discover and Enjoy the Pleasures of Locally Grown Food. Please join us for a scrumptious event!
It's easier than ever to eat food grown close to home, with great benefits to the health of your family, your local community, and the environment. And of course it tastes fantastic! In her new book, Amy gives you all the information you need to become a satisfied locavore, addressing how and where to find local foods, how to eat locally on a tight budget, what questions to ask at the farmers market, and how to grow your own food in small spaces. She offers insider shopping tips, simple guides to preparing what's in season, ideas for bringing out the best flavors in farm-fresh foods, and strategies to make your harvest last. You'll  discover that eating locally is as simple as it is delicious.
A longtime advocate of local eating, Amy Cotler is the founding director of Berkshire Grown, a food initiative that has received international recognition as a model for local food advocacy. She now consults, teaches, and lectures on food and farm-to-table issues. She worked as the web food forum host for The New York Times, and her food articles have been published in numerous periodicals, including Fine Cooking, Kitchen Garden, Cook's, Family Fun, Self, Gastronomique, Orion and The Berkshire Eagle. She's taught at the Institute for Culinary Education and The Culinary Institute of America and now lives in the Berkshires.
Our Price: $12.95