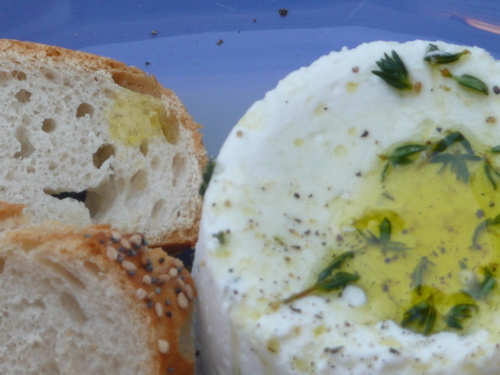 Smooth and milky with a upbeat tang, no wonder fresh goat cheese production and consumption has boomed over the last few decades.
Likely there's a small regional farm in your neck of the woods, say a 70's homesteader like Susan Sellew's Rawson Brook Farm near me, who chose her goats for their good looks and wants to keep the farm small despite large demand. (I especially enjoy her milking merry go-round, where 3 goats stand and are milked as they turn.)
Less is more when it comes to enjoying fresh quality goat cheese, and so here are some of many simple ways to enjoy it — marinated, layered with goodies in a torte, warmed in grape leaves or, for our warm weather friends, in an avocado.
Marinated Goat Cheese
(You can buy cheese that's already spiked with seasonings, but I prefer the flavor when you do it yourself. Here are a few classic ideas, but experiment. Hint: Goat cheese especially enjoys garlic and chives.) This serves about 4 as an appetizer.
With Thyme: Roll 3-1/2 ounces fresh goat cheese gently in about 3/4 teaspoons fresh thyme leaves. Drizzle with about 1 tablespoon olive oil. Marinate in a shallow bowl at room temperature for 1 hour or store in the fridge overnight, turning once or twice. Serve a room temperature with your favorite locally produced bread, crackers or toasted baguette slices. (Alternatively, make into a spread by mixing it all in a bowl with a touch of milk or cream.)
With Cracked Pepper: Use the bottom of a pot to crack 1/2 teaspoon of whole peppercorns (or buy cracked peppercorns) Gently roll 3-1/2 ounces of fresh goat cheese in the peppercorns. Drizzle about 1 tablespoon olive oil. Marinate and serve as above.
With Spices: Toast 1/2 teaspoon cumin seeds in a dry pan over medium heat until aromatic, about 30 seconds. Grind in a spice grinder with 1/2 teaspoon fennel seeds and 1/2 teaspoon coriander seeds. Gently roll the goat cheese in the mixture. Marinate for 2 hours at room temperature or up to 4 days in the fridge. Serve at as above, drizzled with 1 tablespoon olive oil and sprinkled with chopped cilantro, scallions or chives.
Goat Cheese Pesto Torte
This three level torte is easy to assemble and makes a fun presentation. And, if you have any left from your garden, you can use defrosted pesto and roasted tomatoes. This needs several hours to chill before bringing to room temperature again to serve. Serves about 4-6 as an appetizer.
3-1/2 ounces goat cheese
4 ounces cream cheese
1/3 cup oven roasted or 10 sun-dried tomatoes
3 tablespoons pesto
Lightly oil a flat topped pint container and line with plastic wrap. If you don't have your own tomatoes: In a small bowl, cover 10 sun-dried tomato halves with boiling water.When they are plumped and soft, about 10 minutes, drain. Chop finely, then spread evenly on the bottom of the container.
In a micro-wave proof container, combine the cheeses. Microwave just until softened, about 45 seconds to 1 minute. With a rubber spatula, drop a dollop of about 1/2 the cheese mixture into the center of the container. Spread over the sun-dried tomatoes, being careful not to smear the sides.
Evenly spread the pesto, drained if liquidy, on top of the cheese mixture. Top the pesto carefully with a layer of the remaining cheese. Wrap with the overhanging plastic and chill until firm, about 2 hours.
Unmold, removing the plastic. Serve at room temperature with locally produced crackers, toasted baguettes or the bread of your choice.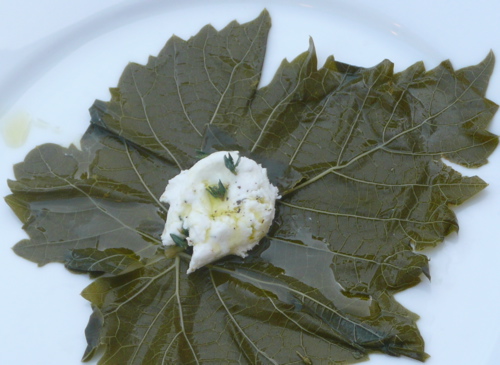 Goat Cheese in Grape Leaves
Grape leaves, jarred in brine, are readily available at gourmet stores and sometimes even in supermarkets. When summer comes, they grow everywhere. Just harvest them, plunge them briefly into boiling water and then in ice.
In a bowl mix 3-1/2 ounces of goat cheese with a squeeze of lemon and fresh herbs to taste. Less is more. Favorites are dill or thyme. I've added scallions and garlic as well. If the cheese is very fresh and soft, no need to add milk, but if not, add just a touch.
Take 2 grape leaves and lay them flat, with the underside up, overlapping well at their bases. Repeat with another two grape leaves. Place half the goat cheese mixture in the middle of each. Wrap well. Grill on a grill pan or in a 350 degreen oven, just until the cheese is melty. About 2 minutes each side.
To serve. Place on a platter, break open the top with a fork or fork and knife. Serve immediately with toasted baguette slices. (Or veggies to dip.) Optional: When the cheese is almost done, cut up the grape leaves to eat as well with some cheese clinging to it.
Appetizer Variation: As first grape leaf picture above, you can also make small appetizer size packets too, but it's best to first blanch the leaves to remove their salty brine. Handling the leaves gently so you don't tear them, just plunge them into lightly simmering water for 30 seconds. Drain and plunge into ice water. Drain and pat dry. Fill small and medium leaves with a dollop of seasoned goat cheese. Wrap to completely enclose the cheese and proceed as above, heating them just until warmed through, about 30 seconds to 1 minute on each side.

Salad of Warm Goat Cheese in an Avocado with Lime Dressing
Not a typical post for this blog, but swell for those of you who live in California or are willing to share a local food with avocados from far afield, this makes a luxurious salad. This is from my first book, One Pot Vegetarian Dishes.
Makes 4 servings
6 sun-dried tomatoes or oven roasted tomatoes from the summer
2 tablespoons fresh lime juice
2 garlic cloves, minced
2 tablespoons chopped cilantro
1/2 teaspoon crushed hot red peppers
1 tablespoon vegetable oil
2 ripe Haas avocados
l/4 cup fresh (soft) goat cheese
l small baguette, thinly sliced
8 leaves of green leaf lettuce, washed and dried or a big handful of grated cabbage
l/4 teaspoon salt
4 wedges of lime
1. Preheat oven to 350˚F. In a medium bowl, stir together the tomatoes, lime juice, garlic, cilantro, crushed hot red peppers, and oil. Set aside.
2. With a paring knife, carefully halve both avocados around their pits. Pull them apart, remove the pits, and using a tablespoon, carefully separate the flesh from the skin.
3. Place the 4 avocado halves on a lightly oiled baking sheet. Fill each center with 1 tablespoon of goat cheese. Spread the bread slices over the rest of the baking sheet. Bake until the avocado is warmed through, and the bread is lightly toasted, about 10 minutes.
4. Arrange two lettuce leaves or a quarter of the cabbage on each plate with the warm avocado on top. Lightly salt the avocado and lettuce or cabbage, and then spoon the dressing around each avocado with a little on top. Distribute warm toasts onto each plate, and garnish with a lime wedge. Serve immediately.
Local Food Boost?: Here's 15 Ways To Be A Locavore!