Valentine's Day Locavore Cooking Class
New Facebook Farmers Market
Grassfed Beef Conference This Week

(See below for details)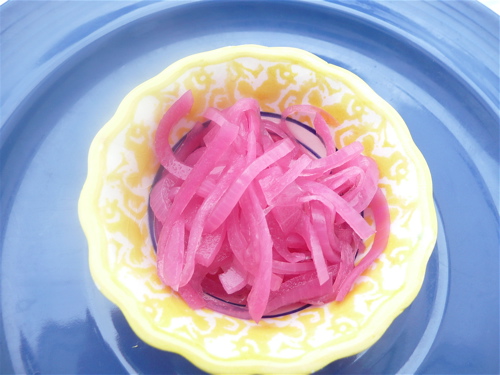 Imagine life without onions, so essential to the Indian diet that there were riots when their price spiked. Here they're a winter staple for their price, flavor and longevity.
Pretty in pink, pickled onions are divine in sandwiches, wraps or on vegetables. Throw them on top of garlic sautéed greens or serve them chopped on your favorite local cheese.
These keep for a week or more, but when they're gone, I've been known to slice another onion, throw it in boiling water for a second and then reuse the pickling liquid.  Makes 1-1/2 cups.
1 medium onion, preferably red*, sliced as thinly as possible
2 teaspoons sugar
1/2 teaspoon sea salt
3/4 cup red wine vinegar
3/4 cup water
1-Plunge the onion slices into boiling water. Immediately drain.
2-Place in small jar. Mix in the salt and sugar to dissolve them. Then pour in the vinegar and water to cover. Shake.
3-Let sit for 1-2 hours at room temperature, then refrigerate.
*Use any sweet onion you like, but red onion turns pink.
Local Food News
Last Chance to Book for February Classes!
There are only two spaces left. Contact me with questions and to register.
February 12
East-West Maine Shrimp Dumplings
Shittake Mushroom and Butternut Stew on Piedmont Polenta
Vegetable course TDB,depending on availability
Mini Molten Chocolate Cakes with Local Eggs and Cream
$100 per person, including a full meal, 10-2 (Great Valentine's day gift.)
Locavore Winter Relief Online
Go Berkshire Grown!
When I was the founding director of Berkshire Grown, an early farm to table advocacy organization, facebook was just an idea some geek at Harvard was dreaming about. Times have changed. The current team at Berkshire Grown has brought their work up-to-date with a fabulous new Farmers Market on Facebook, where farmers selling winter goodies connect with consumers who want them.
If you are working with or supporting local food advocacy groups anywhere, steal this terrific idea from Berkshire Grown!
Grassfed Beef Conference For Farmers This Week
I met Morgan and Peter of Black Queen Angus Farm at the winter holiday market up in Williamstown, Massachusetts. After I complained that my husband wasn't happy with grassfed beef, they gave me a delicious steak to try.
They'll be sharing how they raised their tasty beef at a conference this Friday and Saturday in Latham, New York, along with other farmers, including Joel Salatin of Polyface Farm, made famous in The Omnivore's Dilemma. Just google "The Winter Green-Up Grass-Fed Beef Conference" to download a PDF of the conference.
As consumers start to steer away from factory bred beef, the demand for sustainably raised meat is up. So if you know any farmers thinking of raising beef, pass the word on! This article will tell you more as well.
By the way, that Black Queen Angus Farm steak WAS good, so I'm passing on the word here and on facebook.
Email Morgan or Peter at: blackqueenangus@yahoo.com.
Their farm is in the Taconic Mountains bordering Massachusetts and Vermont.
More about grassfed beef this winter….