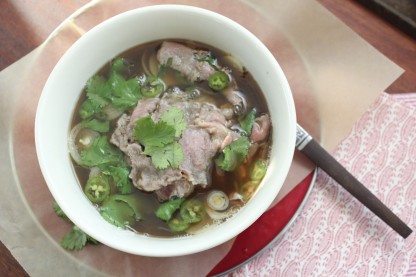 A bowl of Phở. Breathe in before you begin..
(Thursday nights in the winter at The Meat Market. Call first to confirm!)
When I was young and living near Manhattan's Chinatown, I fell in love with cheap Asian food, devouring pork buns on my way uptown to cook elegant lunches as an executive dining room chef for the super rich.
By day, I glazed out-of-season raspberries to garnish stylized plates of mini pastries. At night, I devoured big bowls of cheap nourishing soup, loaded with rice noodles and beef, otherwise called Phở.
I ferreted out great eats in Chinatown, along with my husband, Tommy, who sometimes carried our baby, Emma, in a Snugli on his chest.  On our first visit to a superior Vietnamese joint off Elizabeth street, we pointed to what everyone else was consuming —  giant bowls of steaming soup, teaming with unknown goodies. During the meal, someone from the kitchen appeared magically with a bottle for Emma so I could keep slurping noodles uninterrupted.
But I digress. Phở  is the national soup of Vietnam. Although there are many variations, Phở should generally have a good beef stock, rice noodles, beef (you never know what kind) and fresh condiments, such as bean sprouts, cilantro. And, of course, there's Vietnamese hot sauce.
This kind of honest international food is what I miss most up here in New England, where you can hardly grab a Bánh mì on the go. (For the uninitiated, that's an orgasmic Vietnamese sandwich.)
But now my troubles are over. On Thursday nights Phở is available using guilt-free regional meat at my local butcher shop, The Meat Market. Join me there this Thursday night at 6:00 and share a meal with me!