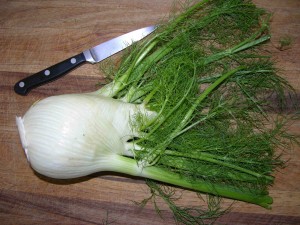 (Picture from The Berkshire Food Journal, where you'll find loads of great audio/slide show clips on farmers and chefs)

Fennel is a three-in-one vegetable, each tasty but surprisingly different. Its top sports green herbal fronds, gentle and sweet. The crisp bulb has a light licorice flavor raw, but is mysteriously subtle when stewed, as it is here. This savory pancake from my book, One Pot Vegetarian Dishes, makes a good breakfast or bunch. Makes 4 serving
2 small fennel bulbs, sliced and fronds reserved and chopped
2 teaspoons olive oil
2 garlic cloves, peeled and sliced
l/4 teaspoon plus l pinch salt
l/4 teaspoon crushed hot red pepper flakes
3 tablespoons butter
3 tablespoons grated Parmesan-like cheese
l/2 cup flour
l/2 cup milk
2 eggs
4 lemon wedges
l. Preheat the oven to 425˚F.
2. Remove outer stalks from fennel bulb and discard. Trim fennel. Cut bulb in half lengthwise and thinly slice. Place a large piece of foil on the counter. Spread the fennel over the foil and sprinkle the olive oil, garlic, l/4 teaspoon salt, l pinch crushed hot red peppers, and l tablespoon water. Mix with your hands, and loosely close the fennel into a foil package. Place in the oven for about 15 minutes while you are making the batter and don't take out until you remove the pancake.
3. In a large heavy cast iron or oven proof pan,  melt the butter over medium heat. Reduce the heat to  low, and keep warm while you prepare the batter. If the butter lightly browns, it will add a nutty tasty to the pancake.
4. In a medium bowl, combine the one tablespoon cheese with the flour, milk, eggs, and a pinch of salt and the rest of the crushed hot red pepper flakes. With a wooden spoon, lightly mix. (There will still be lumps.) With a rubber spatula, scrape the mixture into the warm pan and immediately place in oven, next to the fennel confit.
5. Bake the pancake until is browned and lightly puffed, about 20 minutes. Immediately, sprinkle with remaining cheese.  In a medium bowl, toss fennel confit with fennel leaves. Slice pancake into 4 wedges and serve with fennel confit and lemon wedge. Garnish with fennel sprigs.


This week? A symposium and a summit. I've turned from the world of ideas at the 10th anniversary of the noted food and culture magazine, Gastonomica, to the hands-on sustainability work of the Chefs Collaborative at their annual gathering. (I wrote for the former, worked with the latter.)
Gastonomica's all-day event explored the nature of taste, starting with a dynamic talk by Adam Gopnik and ending with a talk by Dan Barber, of Blue Hill and Stone Barns, about ecological fish farming in Spain. For me, Dan' talk raised interesting questions. Is it worth supporting fish from afar to promote its ground breaking eco-friendly practices and fabulous flavor, or is it best pumping our energy into fish production close to home? Or should we do both? I tend to think the latter but would love to hear your thoughts. Here's Dan's TED talk on fish farming that revitalizes the environment. (On a more academic level, to read more about taste within the context of "sensory studies" prowl around this site.)
The Chefs Collaborative has led the way, teaching chefs about the whys and hows on buying and preparing sustainable foods. Check out their website for all kinds of great information on everything from grass fed beef to sustainable fish. (I'll have more to say on their fabulous summit next week.)