Breaking out of Your Vegetable Rut with Celery Root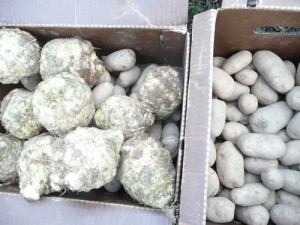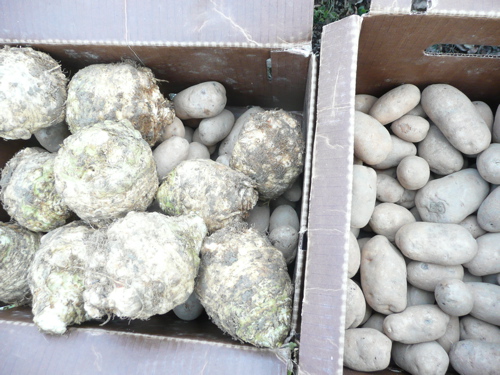 Celery Root and Potatoes from Farm at Miller's Crossing

Fair warning: I'm partial to celery root, also called celeriac. Maybe that's because I didn't grow up eating it. So its appealing but oppositional flavors — at once sophisticated and earthy —  still surprise me.
And like all favorite foods, its pleasure is magnified by the memories it evokes. For me, that's tasting my first celeriac salad in a French café in small town, as I was a young woman, first on my own. (I had no idea what it was, but I was hooked.)
Romantic roots aside, it's likely you weren't weaned celery root either. And its unwelcoming look hardly beckons. But knife away its knobby skin and take a whiff.  It has a celery-like aroma, but with a rustic edge that isn't starchy, like a potato, but brighter with a hint of the exotic. Its flesh adds punch on its own or blends happily as a team member with other vegetables.
Eaten raw or cooked, celery root sings.
Try it raw, grated into that classic salad I savored long ago, which has become a seasonal staple in our house, always a side with winter sandwiches. Just peel one pound of celery root and toss it very lightly 2 or more tablespoons of well-seasoned mayonnaise.  (This salad loves apples too.)
Here's a simple version. Season the mayo with 2 or more tablespoons red wine or cider vinegar, 1 tablespoon whole grain mustard and a clove of minced garlic, adding capers or cornishons and parsley if you want more punch.
Alternatives? If the flavor's too strong for you — it isn't for me — plunge grated celery root into boiling water for a few seconds. Drain it, then plunge it into ice water, before draining again and dressing it. Or, if you're not a fan of mayo, use a simple oil and vinegar or lemon dressing instead.
Cooked celery root plays with other vegetables too, seriously jazzing vegetable combos. Cube and peeled it, toss in olive oil, then roast it with seasonal roots, like carrots, parsnips and onions. (You can also put the vegetables under roasting meat or poultry, so it can absorb the drippings.) Or pair it with its best friend, the potato, in the recipes below.
The wallflower of winter root vegetables, celery root gets stuck in the corner while all the rest boogie around America's kitchens. Sure, it's a homely root with a warty skin, but that belies its fabulous flavor. So break out of your winter vegetable rut and include celery root in your repertoire.
Some recipes links from this blog:
Smashed Potatoes and Celery Root with Chive 
Potato-Celery Root Ravioli
Winter Root Soup