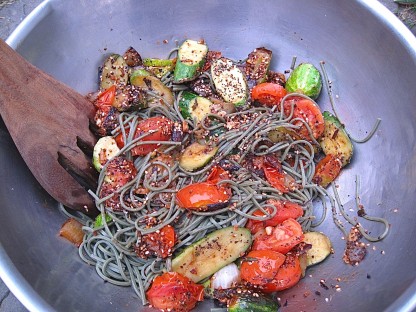 Friday night…
Noodles in Rosemary Oil with Market Veggies and Tornado Dust
The kitchen is mostly packed, but I left out a few vital items and happily Thursday is market day in West Stockbridge. Luckily, I still have my trusty rosemary plant out, ready to bring to my new home.
I threw this tasty vegetable mixture over pasta, but I'm sure it's equally good over a thick slice of toast made with quality bread, rice or you tossed with cooked grains or boiled baby potatoes.
Amounts for this recipe are approximate, so go by feel: Briefly simmer about 1 tablespoon very coarsely chopped rosemary in about 3 tablespoons of olive oil. Add a handful of chopped onion and a market basket baby zucchini, sliced on the diagonal. Cook over a medium high heat, shaking the pan occasionally until some of it is browned.
Add two or three tomato handfuls of wedges. Turn a few times with a clove or two of chopped garlic, just until the tomatoes melt a bit. Add salt and plenty of cracked pepper to taste. If you can also add a heaping tablespoon or more of Tornado Dust or it's equivalent. (I get mine at my local bagel joint, Great Barrington Bagel.) Essentially, it's the topping for everything bagels, and I had it left in my fridge, although most of my supplies are now packed.
Add about 1/2 a pound of mugwort soba noodles noodles (or your favorite pasta?) to plenty of boiling water, and cook until al dente. Drain and toss with the veggies, which should be fairly juicy from the tomatoes and zucchini. Eat immediately.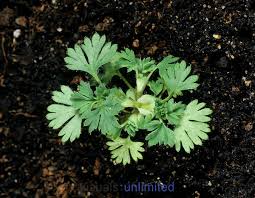 Saturday night…
Naomi's Classic Tabouli Improvisation
The queen of herbs, dear friend, primo herbalist and acupuncturist Naomi Alson, make this for us last night. The key, she says, it to add TONS of herbs.
Take a ton of parsley leaves with some stems from the garden or market, adding purslane, if you have it, as well as some dill and mint leaves too. Chop. Toss with cracked wheat, AKA bulgur, that has been soaked in lightly salted hot water and drained well. Toss with herbs. (There should be as much or almost as much herb as wheat.)
Add a handful of diced red onion and a couple of tomatoes. Toss again with freshly squeezed lemon juice, olive oil, salt and ground pepper to taste.
Best eaten that day, but fine the day after. It you like, add some pealed and diced kirby (pickling) cucumber at the last minute. Classic. Perfect.