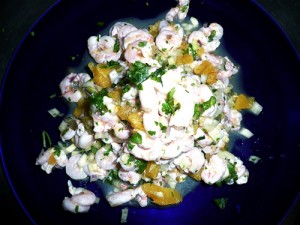 In this issue
A recipe for Maine Shrimp Seviche
What are community supported fisheries?
Berkshire fish — a buying club
Maine Shrimp Seviche
If you live in the northeast, celebrate the winter with Maine shrimp, which are small and sweet with the taste of a cool ocean breeze.  They're in season right now when they go happily into Chinese Dumplings or the light shrimp seviche here.
I bought my shrimp from a local fish buying club. Or you may find them at one of the growing number of Community Supported Fisheries near you. (See below for more information on both.) They may also be available at your supermarket, where they can be just fine or iffy, so make sure you buy them the day they come in.
The preparation is a snap, especially when you buy the shrimp already shelled. (Maine shrimp do not have to be deveined.) Marinate them briefly in lemon juice, so the acid will "cook" them, while retaining their soft texture. Drain, then toss with the remaining ingredients.
I served this as an elegant first course. You can present them on a bed of greens or solo, as I did, in chilled cups, wine glasses or in a scallop shell. Serves 8-10 as a first course, easily halved.
2 pounds peeled Maine shrimp
1-1/2 to 2 cups fresh cold lemon juice
4 navel oranges, sectioned, with their juices
1 large fennel bulb, finely diced
1/4 cup finely diced red onion
1-2 cloves garlic, minced
1 hot chili, finely minced, or 2-3 tablespoons chopped pickled jalapeño
1/4 cup olive oil, or to taste
2 tablespoons coarsely chopped cilantro
Salt to taste
Leaves of Boston lettuce, optional
1-Add the shrimp to a 4-cup glass measuring pitcher or small narrow saucepan. Cover them completely with lemon juice and the orange juice reserved from the sectioned oranges. Stir once. Let sit for 30 minutes.
2-Drain the shrimp and toss with the remaining ingredients, salting to taste only if necessary. Serve immediately as is in little chilled cups, wine glasses or in a lettuce leaf.
What are Community Supported Fisheries? 
Community Supported Fisheries (CSFs)  are modeled on Community Supported Agriculture farms (CSAs), where members pay a fee to a farmer upfront then receive a portion of sustainably harvested food during the season. With a CSF, fisherman, rather than farmers, receive direct payment from their members, cutting out the middleman. This is benefits them financially, allowing them to preserve their way of life. Members enjoy connecting with their local fishermen and eating shockingly fresh eco-friendly fish.
There aren't many CSFs yet, but they are likely to grow as consumers place a higher priority on good, clean and fair food. To learn more, look at this list of Community Supported Fisheries, or read this brief article in Yes Magazine. There are some good links here, including the Penobscoteast Resource Center in Maine. I met their director, Robin Aldren, in Torino Italy, at Terra Madre, Slow Food's international gathering. There, she and other advocates introduced me to the New England CSF movement. Sometimes you have to go far from home (Torino, Italy) to learn what's happening near home!
CSFs take me back to my roots in farm to table work, which started in the early 90's with Robyn Van En, who was the founder of the CSA movement in North America. My work with Robyn brought together my passion for good food and social justice. CSFs do too. I'm itching to see how they grow.
Berkshire Fish — a buying club
Where I live in Western Massachusetts it's far from the sea.  Sure, there are trips to the Cape, where I wallop down Wellfleet Oysters. But what about the rest of the year? We don't have a fish market close by and supermarket fish is touch and go. But Matt Rubiner, local perfectionist foodie and cheesemonger, started a fish club a few years ago out of his store, Rubiner's.  Join his weekly email list, which includes regional fish, at cheesemonger@rubiners.com or by calling the store at 413 528 0488. Emails arrive early in the week. Orders need to be in by Wednesday and picked up on Friday at Rubiner's in Great Barrington. Prices are not cheap, but the quality is exceptionally high.