Food News Below
More about Potatoes
Ted Dobson of Equinox Farm Talks about Farming
Berkshire Kripalu Community Talk and Book Signing
"Changing the Way We Eat"big TED event now online
American Farmland Trust's Planning Agriculture Guide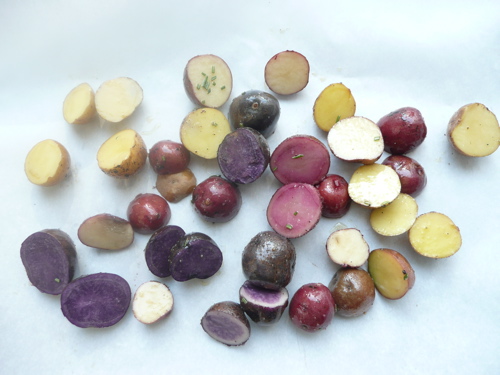 The recipe
Cute is not my thing. I ripped the bows off my party dresses as a kid, and my sisters tell me I that missed some essential "girl lessons" along the way.
But these potatoes are my kind of cute, each a different flavor and color, all wrapped in their baby skins. And this winter, when it's been white everywhere for months on end, a little color, variety, and well, cuteness, go a long way.
Steaming these lets their flavor and texture shine through, unadorned. Serves 3-4 as a side dish (vegetarian

1 pound baby potatoes
1-1/2 teaspoons olive oil or butter
Salt and pepper to taste
Chopped parsley or dill, optional
1-Wash the potatoes and cut them in half.
2-Cook in a steamer over 2 inches of boiling water in a covered pot until cooked through but not mushy, about 12-15 minutes. If you don't have a steamer, just put them in the water. Drain. Toss with the olive oil or butter. Add salt and pepper to taste. If you like,  toss them a with a touch of chopped parsley or dill.
3-Serve warm as a side dish or as a component in a vegetarian entree. For a vegetarian entree, I like THEM atop garlic sautéed greens with a dollop of fresh goat cheese, which will start to melt. For that, this will serve two.
More About Potatoes
Where did they come from?
These potatoes are grown by Ivy  Donovan of Hawley MA. Ted Dobson, of Equinox Farm near me in Sheffield,  who specializes in Mesclun, has been buying them for 18 years and says  they're the best in the state. He wholesales them for $15 for a ten  pound bag and can be reached at 413 229 2266 for orders. Hear Ted talk about farming on The Berkshire Food Journal.
These taters
These potatoes are mix of varieties — organic Red Blush, Yellow Finn, Butterball and All Blue. Red Blush are the red "new" potatoes you are familiar with, waxy and firm. Yellow Finn have a creamy texture. Butterball have a tender flaky texture and, yes, a buttery flavor. Magical looking All Blues are purple all the way through, unlike other varieties that have a greyish flesh.
Size matters?
Potatoes are graded by size, with A's the  largest, then B's, followed by these baby C's, which are harvested young or sorted by size. What contributes to their flavor?  Their variety, the grower's skills, soil quality, and of course because they are relatively fresh and local.
Because they are smaller you get more variety on your plate, which is fun for the eye and palate. But smaller is not always better, which I learned when I came of age as a chef in the 80's when the world was awash in baby vegetables. A 4 or 6 inch zucchini is better than a honker. But a 2 incher is just silly. A giant brandywine potato may be tastier than a little cherry, or at least as good. And so on….
Good Food News
Kripalu Potluck Talk in Stockbridge
Berkshire Kripalu Community provides a fabulous service — top notch yoga at affordable prices for local residents. This month I get to give something back, a talk about local food and A book signing for their members-only monthly potluck supper. If you live in the Berkshires consider joining!
Changing The Way We Eat
Huge Sustainable Food Event for TED now online
American Farmland Trusts Planning Agriculture for New York Guide
A farm is lost to development every three and a half days in New York. This guide steers town planners and counties who value the importance of agriculture towards an pro-active role in preserving their local farms. (Many of the guide's directives are useful for other states as well.)