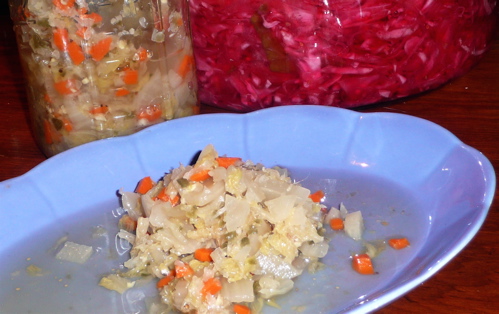 Wake up winter! Now's the time for fermented foods with their heady smell and stand-up-and-shout flavor. Good for the gut and dense with accessible nutrients, foods like sauerkraut and the kim chi here, extend the season when the ground is unyielding.
Preparing fermented vegetables is easy, and you can invent your own variations over time. Just make sure to keep the food immersed below the liquid, where it will continue to ripen eternally, albeit much more slowly in the fridge or in a cold cellar. The art is to savor it while its taste and texture still suits you. Enjoy your kim chi; it's worked for millions of Koreans, who use it as a staple with just about anything, especially rice and grilled meats.
This simple kim chi recipe was adapted by Dawn Story from the classic Wild Fermentation, by Sandor Ellix Katz. Use red chilies if you want more color. Makes 1 quart
Kosher or sea salt
1 pound cabbage, preferably napa
1 small daikon radish
1-2 carrots
4 hot chilies, seeded and chopped, or to taste
2 leeks, scallions, shallots, sliced, or 1 onion, diced
4-6 garlic cloves, minced
3 tablespoons coarsely grated ginger
Toasted sesame seeds, optional
1.  Mix a brine of 4 cups water and 4 tablepsoons salt. Stir to dissolve salt.
2.  Coarsely chop cabbage, slice radish and carrots, and let the vegetables soak in the brine. Cover with a plate or other weight to keep them submerged until soft, a few hours or overnight.
3. Half the chilies lengthwise. Remove and discard the seeds. Mince the flesh. (Use gloves or wash hands carefully.) Combine with the shallots, scallions or onions with the garlic and ginger.
4.  Drain brine from the vegetables and reserve it. Taste the vegetables for saltiness, adding more salt if necessary or rinsing if too salty.
5.  Combine the vegetables with the spicy mixture. Pack them tightly into a clean glass quart jar, then press them down completely beneath the brine. If the brine doesn't rise up above the vegetables, add a little of the reserved brine to submerge them. To stop them from floating up, weigh them down with a smaller jar or a zip-lock bag filled with water. Cover the jar with a light dishcloth.
6. Ferment the kim chi in your kitchen or another warm place. Check it everyday, pushing the weight down in order to keep the veggies beneath the brine. Taste it every few days. When it is ripe (you like it), move to the refrigerator or a cold basement. (Ripening will take from a few days to a week, depending on how hot your kitchen is and how you like your kim chi.) Sprinkle with sesame seeds before serving if you like.
A cure for garden lust
Those seed catalogs can produce the strongest longings. But many of us lack the time, energy, land or company for a garden. Yard sharing is a relatively new idea that's gaining momentum. Pool your energy and build yardsharing groups on your own, or with a leg up from hyperlocavore founder Liz McLellan, (and members) on her site to grow food together with neighbors, friends, community members of all ages.