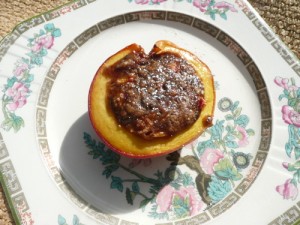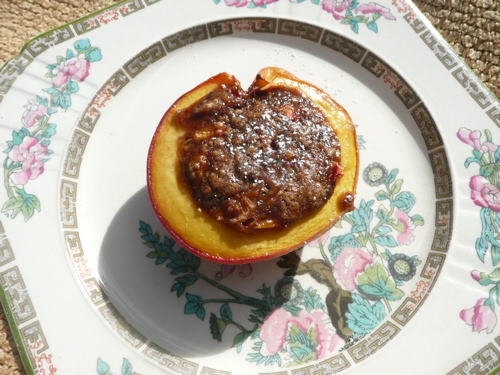 (This is a stuffed peach. We're going to do the same thing with pears. Fabulous.)
Let's celebrate the thaw of spring with this menu inspired by the flavors of Italy. Join me in a hands-on workshop using Italy's signature flavors in dishes that will quickly become family favorites as the new season unfolds and all these ingredients are readily available — peas (soon), pancetta or bacon (any  time) herbs for green sauce (soon), rosemary roasted vegetables (now), lemon-olive oil cake (use local yogurt now).
Where? At the Different Drummer in Northampton
When? Join our waiting list for the April 23 class (6:15-8:45), as they may run a second class!
How do I sign up? Go here
Menu
Risotto with Pancetta and Peas
A trademark of spring
Chicken Breasts with Piquant Italian Green Sauce
A tangy addition to any repertoire
Rosemary Roasted Vegetables
A vegetable favorite with seasonal vegetables
Olive Oil-Lemon Cake
Who knew this could be so good?
Baked Pears with Chocolate
Almond Filling Only the Italians would think of this one
 Instructor:  Amy Cotler
Fee: $65.00