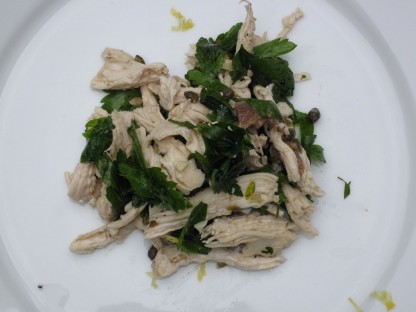 Vibrant, but commonly underrated, parsley is never used as a primary salad ingredient. I've rectified this in a surprisingly tasty salad of roasted chicken and parsley with lusty Italian flavors. If they are tender, use the leaves whole — taste one! —or, if you prefer, coarsely chop them. Serves 2-4 servings.
2-3 tablespoons olive oil, to taste, preferably fruity
2-4 chopped anchovies, or to taste
2 cloves garlic, peeled and thinly sliced
Salt to taste
A few grinds of fresh pepper
2 boneless, skinless chicken breast halves
2 tablespoons capers
1/2 teaspoon Dijon mustard
2 teaspoons lemon juice
2 cups lightly packed flat leaf Italian parsley leaves, whole, washed and dried
1. Preheat oven to 400°F. In a small roasting pan, casserole or loaf pan mix 1 tablespoon of the olive oil one smashed anchovy, garlic, a large pinch of salt and freshly ground pepper. Add the chicken breast and toss to coat. Roast, until just cooked through, but not over cooked, about 20 minutes.
2. While the chicken is roasting, add the capers to a medium bowl and mash a little with a wooden spoon. Stir in the Dijon and lemon juice. When the chicken is cooked, add the juices from the roasting pan.
3-When the chicken is cool enough to handle, shred by hand (or with a fork) right into the bowl. Chop the parsley very coarsely if you like, or leave it whole. Add to the chicken mixture and toss again, adding the chopped anchovies and additional olive oil, if you like. (Amount of oil will vary, depending on size of the chicken breasts.) Add salt and pepper to taste, if needed.
4. Serve room temperature or cold, mounded for height on individual plates or a platter.
Flat leaf vs. curly leaf parsley
Both taste great. Like many chefs, I tend to prefer the Italian flat leaf variety, because it has a greener flavor and a better mouth feel.  But the curly variety works well in some dishes, including the fried parsley recipe here. If all else fails, if you can't find one, use the other.