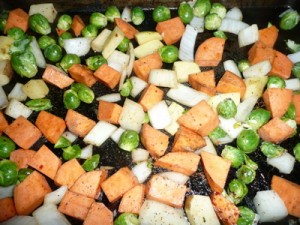 Tossing and roasting seasonal vegetables is an easygoing and forgiving technique that intensifies their tasty flavors. Combine what's in season, cut them into similar sizes and go. Here, underrated brussels sprouts are combined with sweet and russet potatoes, then seasoned with onions and bacon. How can you go wrong?
4 side dish servings
A little olive oil
3 slices of bacon
1 stalk, 3/4 lb or about 3 cups brussels sprouts
about 3/4 pound potatoes, about 2 russets (more smaller potatoes)
about 1 pound sweet potatoes, about 2
1/2 large sweet onion
kosher salt
freshly ground pepper
lemon juice, optional
1. Preheat oven to 400 degrees. Lightly oil a baking sheet. Lay out the bacon, and roast until crisp, about 10 minutes. Remove and set aside.
2. Prepare vegetables while the bacon is roasting. Snap brussels sprouts off their stalk, if you bought them that way. Cut off their ends. If they are large, cut them in half, if very small, leave them whole. Peel and dice the potatoes and sweet potatoes to about the size of the sprouts. (If the potatoes are thin skinned, such as red potatoes, you don't have to peel them first.)
3.Toss vegetables in the pan in the bacon fat and a touch of salt and pepper until well coated. Roast in a single layer, shaking the pan one or twice, until browned and cooked through, about 25 minutes or so. Taste and salt more if needed. Squeeze with a touch of optional lemon if you like.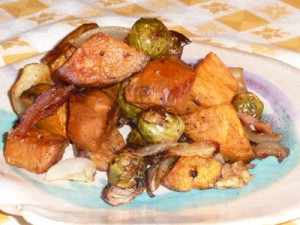 Brussels Sprouts
My sister calls them parakeet heads, but I continue to insist that they're fabulous when cooked right. Cut off the ends, but not so much that they fall apart. (You're supposed to make an X with a knife on the bottoms so they cook evenly, but I seldom do.) Roast them solo or with other veggies, as in this recipe, or steam just until tender all the way through but still bright. Season steamed sprouts with butter that's been cooked until slightly brown and nutty in flavor, or toss in lemon juice and soy.

Brussels Sprouts from a CSA
If you ever wanted to put a face on farming, to really understand where your food comes from, consider joining a CSA, a Community Supported Agriculture Farm. My stalk of brussels sprouts came from Elizabeth Keen, of Indian Line Farm in Egremont, MA, founded by Robyn Van En, who spearheaded the CSA movement in North America. In CSAs, members, sometimes called shareholders, agree to support an environmentally responsible farm and farmer by paying upfront costs before the growing season and sharing in both the bounty and the risk of the harvest. In tangible terms, members generally get a grocery bag or so of shockingly fresh, sustainably raised food once a week throughout (and sometimes beyond) the growing season. Many also have pick-your-own and other add on shares, such as fruit or dairy, and an annual event. To locate a CSA near you, visit: http://www.wilson.edu/csasearch/search.asp