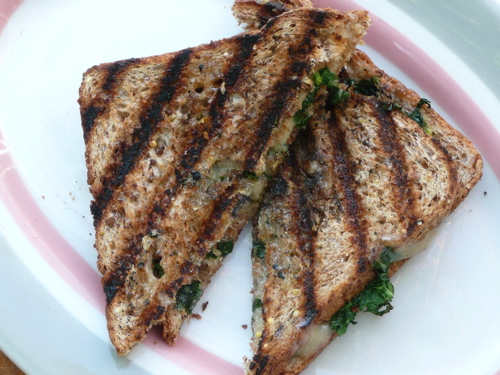 This simple sandwich bites back, with its 3 get-up-and-go regional ingredients — aged cheddar, broccoli rabe and whole grain bread.
The cheddar came from my trip, mentioned in last week's post, to the Grafton Village Cheese Factory.  I picked up the broccoli rabe at the Great Barrington Farmers Market, cooked it with pasta, then used the rest for this sandwich. And truthfully, the whole grain sprouted wheat bread was from my local supermarket, because I ran out of locally baked Berkshire Mountain Bakery Bread, which would have been better. No doubt you have regional cheese, broccoli rabe and sour dough whole wheat bread near you.
Makes 1 sandwich, so multiply up for more. It's good any which way, including as an Americana appetizer before a barbecue: Toss onto a hot grill until melted, then cut into quarters or eights.

2 ounces aged sharp cheddar, crumbled or grated
2 heaping tablespoons chopped broccoli rabe leaves
2 slices hearty whole grain bread
1-Lightly oil any kind of grill or saute pan. Top one slice of bread with first the cheese,then the  broccoli rabe leaves, finishing with a second piece of bread.
2-Carefully place sandwich over medium to medium-high heat. Place 28-ounce can on top (or press firmly a few times with spatula as it cooks). Take a peak after 2-3 minutes. When it is mostly melted, turn it and cook until the bread on the other side is well seared, about another 2-3 minutes. Cut and serve.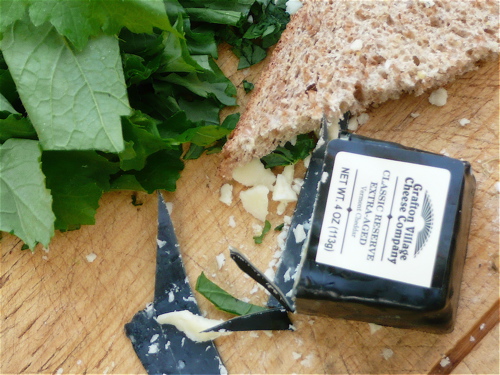 The ingredients
Mary Cleaver and I have lots in common: both caterers in New York's Tribeca in the '80s with daughters named Emma born in 1989. I left Manhattan for the wilds of New England, while Mary stayed on. But we arrived at the same place by following our palates into the world of farm fresh foods.
We reconnected recently to put on a Sustainability Powwow for the New York Women's Culinary Alliance in Manhattan to discuss the importance of regional foods with other professionals. Mary now runs a successful catering business, The Cleaver Company, and restaurant, The Green Table, both of which focus on serving the tastiest possible eco-friendly regional foods. And her mission to boost sustainable and regional farms runs through her work in and out of the kitchen.
Mary's a rare breed of culinary social entrepreneur who really walks the talk, because she understands that it's good business to do the right thing, even when it's not the easiest route. (Try ordering from a zillion different farms and dealing with the uncertainty of weather to boot.)
This Saturday, no coincidence, I'll be feasting on Mary's food at the wedding of my sister, Joanna, and her true love, Mark. Some seasonal highlights? Chilled Spring Pea Soup, Mini Organic Grilled Cheese Sandwiches with Pickled Onions & Fig, Wild Fish Cakes with Lemon Aioli, Pasture-Raised Chicken with Salsa Verde or Rhubarb Chutney, Farmers Market Greens Salad with Flowers, Local Strawberries….
If you live in NYC and haven't done so already, check out the Chelsea Market, where Mary's businesses are located. It's a hot bed of culinary social entrepreneurs — Lucy's Whey, People's Pops, Ronny Brook Dairy, Dickson's Farmstand Meats — who are working overtime to put regional food on your table. And why not seek out culinary businesses near you— restaurants, stores, caterers, food producers — who do the right thing?
Want to learn more?
Mary Cleaver recommends the book Social Entrepreneurship:What Everyone Needs to Know by David Bornstein. It explains what social entrepreneurs are, how their organizations function and what challenges they face. And it gives readers an idea of what differentiates social entrepreneurs from standard business ventures and from traditional grant based non-profit work. Maybe you or someone you know is are starting or reshaping  business…..
My daughter, Emma, enjoying her sandwich.