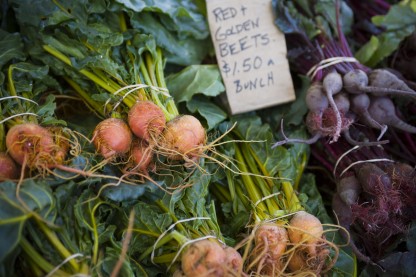 Savor this sophisticated warm winter wrap with local beets and cheese. If your beets come from storage so and don't have greens attached, you can leave 'em out or use any greens on hand.* (The recipe is from my book, Wrap it Up. (The link will steer you to an  independent bookseller near you, where you can easily order it. Or order it directly through Amazon.) Photo by Jason Houston.

l bunch beets with healthy greens* (about l-1/2 pounds total/ 4-6  medium beets)
l tablespoon vegetable oil
1/4 cup chopped hazelnuts
4 thinly sliced red onion
l tablespoon plus l teaspoon red wine vinegar
3 large burrito size flour tortillas
2 ounces locally produced blue cheese at room temperature, about 1/4 cup
l. Preheat oven to 450°F. Cut off beet greens from the beets. Cut and discard stems. Wash and dry about 20 leaves, tearing each into 2 or 3 pieces, and set aside. Cut root end off beets and peel, using a vegetable peeler. Slice beets into 1/4 inch rounds and toss with l teaspoon oil. Lay out on a lightly oiled baking pan in a single layer. Roast until fork tender, turning once, 15-20 minutes total.
2.When the beets are done, heat the remaining 2 teaspoons oil over medium heat in a large skillet. Add the hazelnuts, red onion, and cook, stirring frequently, until nuts are lightly toasted, 3-4 minutes, watching closely to avoid burning the nuts. Add the beet greens, vinegar, and toss frequently until the greens start to wilt, 1-2 minutes.
3. To assemble: Heat the tortillas, one at a time, in a large cast iron skillet or directly over a gas flame, turning frequently, until warm and pliable, about 15-20 seconds each. Spread (or sprinkle) a warm tortilla with about l tablespoon of the cheese. Top the center with about 1/4 of the greens, nuts, and beets. Fold in the sides and roll. Complete wraps with the remaining ingredients. Serve warm. If stored or transported, wrap in parchment paper or foil.
Make-Ahead/Take-Away:
The colorful beets bleed a little once the wrap is assembled, but  it reheated nicely up to a day later in the microwave in parchment, covered with a bowl, or in the oven, covered with foil, just until warmed through. Alternatively, the beets can be roasted up to 3 days in advance and the wrap assembled just before eating.