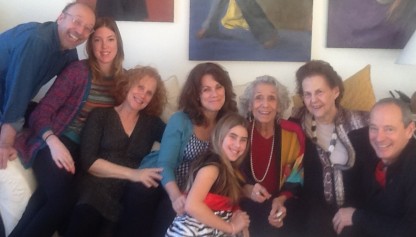 Merry Christmas! I'm in Mexico for the month, but I wanted to share some goodies from my facebook page, where I post more frequently. (The picture? From left to right, my  husband, Tommy, my daughter, Emma, me, my sister, Ellie, her daughter, my niece, Sadie Rose, my mom, Vera, my uncle's wife, Renee, my brother in law, Mark. My middle sister, Joanna, is taking the picture.)

Two cooking classes in Northampton
Join me! Morrocan and Italian Spring Celebration. The former is filled, but they're filling a second session.
Greens with Faro, Currents and Golden Garlic
Saute greens — I used broccoli rabe with a bit of kale, but anything goes —in olive oil and a nice amount of slightly browned garlic. (Don't burn it!)  Toss with cooked faro and currants to taste. Sweet and bitter. Lovely.
Don't you just love home fries?
Here's my millionth version home fries, a big love of mine.
Saute bacon, remove and chop, leaving fat in the pan. Add a small dice of onions, local Mt. Florida turnips (or any good rutabaga) and potatoes. Saute in a HOT pan — love cast iron— until very browned.
I served under Jennifer Trainer Thompson's fresh eggs. You can fried, or poached 'em. Or use the best fresh eggs you can find….(Jennifer gave me  her fresh her terrific egg book as well as her eggs after I interviewed her.)
Last of my CSA share…
From Red Fire Farm —Leeks (leek potato soup with kale?), Spinach (tossed into the boiling water at before draining egg noodles, then again with garlic simmered in butter with freshly grated nutmeg?), Kale (that kale salad I posted earlier sounds good), Parsnips (grated into veggie fritters? blended into soup?), Carrots and Turnips (a quick pickle together?), Black Radish (ideas?) Shallots (in everything, as ever),  Adirondack Red & Blue Potatoes (roasted with shallots, cumin and chilies), and imperfect Brussels Sprouts (we'll see, maybe roasted with some left over radicchio and sprinkled with currents plumped in something fun?).  What are you cooking?
Roasted everything in the fridge
I have a giant bowl from my old catering days, big enough to toss everything in my fridge, literally.
So, when it was time to empty my fridge for our trip to Mexico, I cut up everything edible, including the rest of my CSA share, tossed it with spices and roasted it on three large trays. The apples were sweet, the vegetables spicy — the dish a hot and sweet ying yang delight!
Use what you have on hand. I combined good-sized chunks of  cabbage —who knew they'd turn out so sweet? — beets, parsnips, rutabagas, turnips, sweet potatoes, potatoes, brussels sprouts cut off the stalk with thick slices of sweet onion and apple halves. Toss with olive oil, minced garlic, smoked paprika, cumin seed, salt and cracked pepper, garlic and onion powder. (I was generous with the spices.) Spread in a single layer on parchment paper and roast until dark. (I did remove the sprouts a little earlier.) Now I have lots of Red Fire Farm roasted veggies to munch or as is or to toss on a baguette with sun-dried tomato pesto or goat cheese. But right now I'm roasting some chicken over the last tray.
Bizarre Food Story?
Mom Gives Kids Homemade Lunch, School Forces Them to Eat Ritz Crackers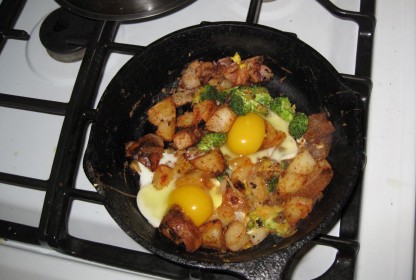 Another version with Jennifer Trainer Thompson's fabulously fresh eggs….