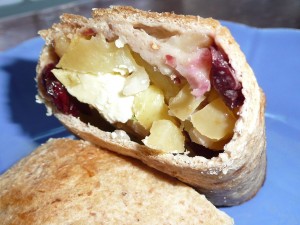 Some of the best recipes are born out of desperation. This is one, created when I had to come up with yet another wrap for my book, Wrap it Up, now out of print. But here it is — a warm wrap reborn with melty local cheese, apples, shallots and regional cranberries. Serve as a unique cheese coarse or light meal, sliced in half on the bias, propped up at an angle, eaten solo, or nestled in a winter salad of shredded cabbage and carrots.
All apples work well in this wrap. And these days, local and regionally produced mold-ripened cheeses, such as something in the brie and camembert family, are plentiful. I found about 10 different varieties easily at my local cheese shop, but farm stands and gourmet markets stock them as well. Makes 4, but recipe is easily doubled or halved
l large apple, skin on, small dice
1-1/2 tablespoons minced shallots
1-1/2 tablespoon dried cranberries
2 teaspoons cider vinegar
1/2 teaspoon packed brown sugar
1/2 teaspoon grated ginger
Pinch hot chili pepper flakes
4 medium (8-9 inch) whole wheat tortillas (or mountain bread)
5 ounces mold-ripened local cheese, room temperature, rind on, cut or torn into 12 or so pieces
1. Preheat the oven to 425°F. In a medium bowl combine the apple, shallots, cranberries, vinegar, brown sugar, ginger and hot chili pepper flakes. Let sit for 15-30 minutes to marry the flavors, stirring occasionally to prevent browning.
2. Heat the tortillas or mountain bread, one at a time, in a large hot cast iron skillet or directly over a gas flame, turning frequently, just until pliable for about 10-30 seconds each.
3. Lay out the tortillas on the counter. Scatter 3 pieces of cheese in the center of each. Top each with 1/4 of the apple chutney. Fold in the sides and wrap. (At this point you can make them about an hour before cooking.)
4. Lightly oil a baking sheet and place in the oven for 5 minutes. Carefully add the wraps, seam side down, and bake until crisp on one side. Turn and bake until the second side is crisp, about l0 minutes total. Remove from the oven and allow to sit for 5 minutes. Serve hot or warm, cut in half on the bias with a serrated knife.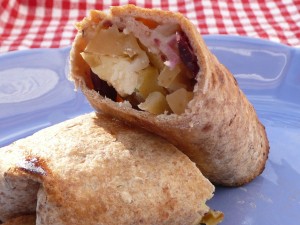 Winter goodies? In the northeast this is the time of year we mourn the loss of anything that springs from mother earth. But there's still plenty to choose from. So don't forget maple syrup, eggs, milk, cheese, sustainable raised meat of all kinds (usually frozen), sustainably raised or caught fish, winter squashes, root veggies and more….