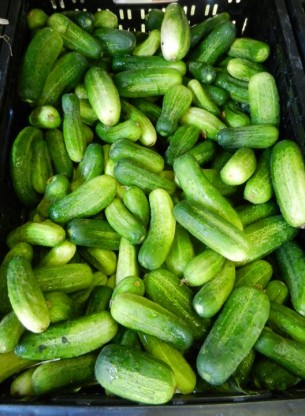 Kirby Cucumbers
Local yogurt and cucumber anyone?  Here are some international variations on this refreshing soup.
A few tips
Because they're easiest to find, I've designed this recipe for standard cucumbers, but I prefer the taste of kirby (pickling) or Armenian cucumbers. Better yet? You don't have to seed them, unless the kirbys are very large. Cucumber loose their flavor fast, so use 'em the day your buy or pick 'em.
Makes about 4 Cups
l large cucumber, peeled, seeded and finely chopped
(or 2 kirby or standard Armenian cucumbers)
1/2 teaspoon salt
2 cloves garlic, minced
14 teaspoon salt
3 cups plain yogurt
3 tablespoons chopped mint, or more
2 teaspoons chopped chives
1/4 teaspoon freshly ground pepper
About 2 tablespoons milk or more, only if needed
1 tablespoon olive oil
Optional: Fresh lemon juice to taste
1-Toss the cucumber and salt and let sit for 1/2 hour.
1. Add the garlic yogurt, most of the mint, the chives and pepper. (Reserve some mint of garnish.) Stir vigorously. Add a little milk if it needs thinning.
3.  the cucumber and add to the yogurt mixture with a little milk, if needed, to reach the desired thickness, along with the olive oil. (Amount will depend on the thickness of the yogurt.)
4. Chill for at least an hour. Taste for salt, pepper and mint, adding more if needed. If you wish, add fresh lemon juice to taste. Ladle into chilled bowls. Sprinkle with remaining mint.
International Variations
Persian
Prepare recipe above
Replace the mint with l tablespoon chopped dill
Stir in 2 tablespoons raisons
Ladle into chilled bowls.
Garnish with chopped hard boiled eggs
Indian
Prepare recipe above, but don't chill
Toast 3 tablespoons walnut halves over medium heat, stirring frequently until aromatic
Set aside to cool. Chop.
In the same skillet, toast 1 teaspoon cumin seed. (Do not burn)
Stir the cumin into the soup.
Chill for l hour. Ladle into chilled bowls.
Garnish with walnuts.