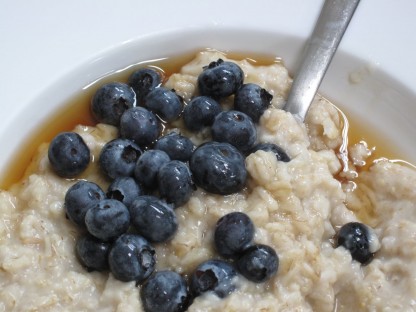 T'is the season. So gorge yourself on blueberries while you can. Pick-your-own, eat 'em till you're sick of them — out-of-hand and in everything from oatmeal to salad. Then freeze the rest to savor in these blueberry muffins when ground is frozen and you crave the taste of summer. (Find a pick-your-own farm near you here.) This makes Makes 12 muffins
2 cups all-purpose flour
1/2 cup whole wheat flour or toasted wheat germ
3/4 cup sugar
2-1/2 teaspoons baking powder
1/2 teaspoon salt
1-3/4 cups fresh or frozen unthawed blueberries
1 large egg, preferably fresh and summery
1 cup milk, preferably local
1 stick (1/2 cup) unsalted local butter, melted and cooled
1-Preheat oven to 400°F with rack in center of oven.  Generously spray or grease muffin holes and top of tin.
2-In a large bowl, with a fork or whisk, combine the flours, sugar, baking powder and the salt. Stir in the blue berries. In a small bowl, mix egg with a fork, than stir in the milk and butter.  Mix the wet mixture into the dry mixture, JUST until just combined.
3-  Using wet hands or a spoon, loosely form the batter into about equal size balls, about the size of the tins. Drop each into a tin, then bake 15 to 20 minutes, or until they start to brown. Let cool thoroughly before removing from pan.